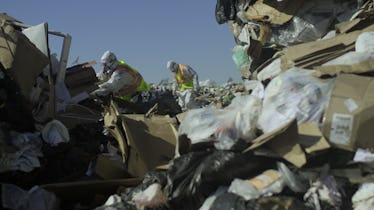 Here Are All The Big 'Unsolved Mysteries' Theories About John Wheeler's Death
Netflix
For all that Unsolved Mysteries spawned in an entire true-crime TV series industry, not all cases are as straightforward as they seem. While some episodes play up different angles or muddy the waters on the more clear-cut cases, others are hard to parse. The second half of Unsolved Mysteries' first season on Netflix opens with just such a case. The theories about John Wheeler's death demonstrate how hard it is to know what happened.
John Wheeler's is an odd case for sure. Wheeler was a "Washington insider," the descendant of generations of high-ranking soldiers going back a century. He was the man behind the Vietnam Memorial and a leading advocate to recognize PTSD in military veterans. When he retired, he did what many Washington ex-military personnel do: He went into consulting and cybersecurity.
And then one day, he turned up dead in a landfill.
From the beginning of the episode, it's clear Wheeler's family does not believe his death was an accident; his daughter suspects someone killed him. There was evidence of a break-in at the Wheeler house the night before he disappeared. Plus, there were smoke bombs that went off in a construction site across the street from his home, which he must have investigated, because the police found his security passes nearby.
But what happened, exactly? That's where things get complicated. Here are the prominent theories: