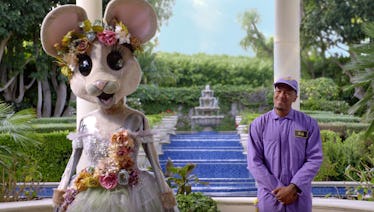 These 'The Masked Singer' Season 3 Costumes Are Too Much To Handle
FOX
The Masked Singer may have just crowned its Season 2 winner, but it's already time to set your sights on the next round of bizarreness. FOX recently released a teaser of some of The Masked Singer's Season 3 costumes, and they are really... something. At this point, fans should probably expect a certain level of weirdness from the show that made giant singing mascot heads primetime viewing, but even still, this next season's costumes are a lot to take in.
In case you somehow missed the first two seasons, The Masked Singer pits celebrities against each other in a singing competition. But since the singing stars are hidden inside ridiculous costumes, their identities are kept secret throughout the whole show, and viewers arguably have even more fun theorizing about which celeb is under which mask than they do when actually watching the show.
In the promo clip for Season 3 of The Masked Singer, host Nick Cannon drives all around Los Angeles to deliver costumes to the celebrities who will be competing. The video is good about hiding the identities of the upcoming season's contestants — their faces remain hidden through the whole thing — but the wild costumes they'll be wearing are front and center.
First, Cannon drops off a flower-crowned mouse head to a Beverly Hills mansion. Next, he meets a cowboy at a farm and brings him a robot costume. Finally, Cannon shows off a banana costume and a furry pink monster costume.
Eagle-eyed viewers might pick up on some hints about the celebrities' identities hidden within the trailer. For instance, the chihuahua barking at the mouse costume could be hinting the mouse celeb is known for their small dog — Paris Hilton, perhaps?
Since the series slowly reveals clues about the disguised celebs as they advance through the competition, it's probably too early to guess who is who in the upcoming season just yet. Luckily, fans won't have to wait too long to start speculating; Season 3 of The Masked Singer premieres on Sunday, Feb. 2, 2020, after the Super Bowl on FOX.