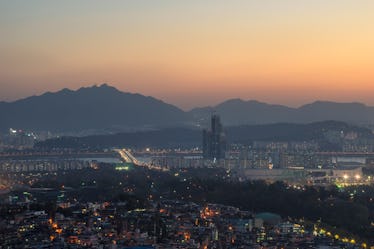 These South Korea Flight Deals Will Make It Easy To Travel Like An Olympian
Hosting the Olympics is the perfect opportunity to show off your country to the world. This year, South Korea is in the spotlight, as the 2018 PyeongChang Winter Olympics are officially underway following the opening ceremony on Friday, Feb. 9. The breathtaking landscape and scenery were some of the most striking parts of the opening ceremony, and it definitely had many viewers wondering how soon they could travel to South Korea to see the beautiful country in person. Well, these South Korea flight deals will give you the perfect excuse start planning for your Olympics inspired trip.
When it comes to traveling outside of the U.S., I automatically see dollar signs. Something about intercontinental travel always screams "expensive" to me (because it usually is). The good news is that there are deals to be had if your heart is set on a South Korea getaway. And honestly, after seeing some of the most famous (and gorgeous) landmarks in the country featured in the pre-recorded portion of the opening ceremony, I don't think you could ask for a more beautiful destination.
Have I convinced you to make sure your passport is current yet? If not, these killer deals on flights from the U.S. to South Korea might help you make up your mind.
While there are affordable prices from many airports across the U.S., I have some really good news for my wanderlust-stricken west coast peeps. Right now, you can buy a round-trip flight taking off in mid-April from Los Angeles to Seoul, South Korea for under $500, according to CheapOair. Oh, and if you want to save a little more moolah, you might be able to take advantage of a CheapOair $50-off promo code (found at the top of the flight list for a limited time). What better way to start your vacation than by saving money?
Plus, that means you'll have more cash for souvenirs when you visit landmarks like Namsan Seoul Tower. It's fine if you seem super "touristy" there, because according to the Korea Tourism Organization, Namsan Seoul Tower was the "first tower-type tourism spot in Korea."
If you're taking off from the opposite coast, it will cost you a little bit more money, but your wallet won't take too big of a hit. You can snag a round-trip flight from New York City to Seoul in mid-April for $670. OK, that's more than your Los Angeles counterpart, but you have an opportunity to save up to $50 on your flight — and you get to see all that South Korea has to offer, like the vibrantly colored Changdeokgung Palace.
Back to west coast deals. An early May round-trip flight from San Francisco to Daegu, South Korea will run you $655, according to Skyscanner. Daegu is 237 kilometers (about 147 miles) southeast of Seoul, the nation's capital city. While in Daegu, you can take in the natural beauty of landmarks like Apsan Park and Gyeongsang Gamyeong Park.
Midwesterners planning a spring getaway can grab a great deal on a mid-April round-trip flight from Chicago to Seoul for $615, according to CheapOair. Back to the east coast, despondent Patriots fans can look forward to a thrilling vacation in South Korea when they book a round-trip flight from Boston to Seoul for $749, according to Justfly. One trip to the Changdeokgung Palace Complex will make your slightly pricier-than-normal plane ticket so worth it.
Before you rush off and pack your bags, I have a disclaimer about these thrifty flights. There are layovers included in all of them, but they help add to your savings — so you can't be too mad. Also, the direct flight time from the U.S. to Seoul is anywhere from 12.5 to 14.5 hours, depending on which city you take off from, so be prepared with plenty of airplane materials.
Now that you're fully putting South Korea on your travel vision board after the 2018 PyeongChang opening ceremony, you can go into your travel prep a little more knowledgeable when it comes to plane ticket costs and the best deals available for your dream getaway.