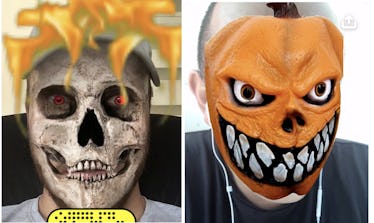 Snapchat's Scary AF Halloween Lenses Will Make Your Stories So Spooky This Holiday
Snapchat
If you know me at all, you're most likely well-aware of my affinity for October. Aside from all of the gorgeous foliage, comfy cool weather, and pumpkin spice-flavored food, I'm a total sucker for scary movies. Regardless if it's won three Oscars, or if it's simply a run-of-the-mill slasher movie, chances are I've already seen it, I want to see it, or I really, really need to see it. Horror gives me life, and if you, too, are all about getting spooked, these Snapchat lenses for Halloween 2018 will most likely be right up your alley. To be completely honest, I'm already scared.
Halloween loyalists need to get on Snapchat, like, ASAP, because according to Snap Inc., the app was recently flooded with a ton of spooky Halloween Lenses. Each Lens was created by members of the Snapchat community with Lens Studio, and they're all positively spook-tacular. There's a creepy pumpkin with spiky teeth, a skull on fire, and a killer clown, and honestly, each and every one is already haunting my dreams.
To search for any of these positively frightening Lenses, just navigate to the Lens Explorer. Tap the smiley face icon at the bottom of your screen when you pull up the Lens Carousel in your Snap Camera, and you'll see all of the greatest (and most terrifying) Lenses the app has to offer. To unlock a Lens, you can tap a Lens tile (like the Pumpkin Head or Pumpkin Face) that will take you directly to the Snap Camera, or you can browse through the featured Lenses in "Our Stories." There, you can unlock a Lens by swiping up on Snaps in these Stories. You can also search for specific Lenses while in Lens Explorer, when you type in your search at the top of your screen. Your selected Lenses will be available in your Lens Carousel for the next 24 hours. In the words of Scooby Doo, "Zoinks!"
If you're feeling fearless, just take a look at these jack o'-Lanterns. They are so. Freakin'. Creepy. Like, I can hardly stand looking at them (but I also really want them on my Story).
If those didn't do the trick, however, take a gander at this killer clown. Between its ghoulish eyes and haunting smile, this evil entertainer actually makes my skin crawl.
No matter where you hide, though, there's no escaping any of these scary AF skulls, either. Yikes.
Oh, and these monsters? They're definitely haunting my dreams tonight. The Devil Path undoubtedly has some evil tricks up its sleeve, and that zombie is hungry for human flesh. UGH, they're literally horrifying (but in reality, I kind of love it).
Has the Snapchat community's creativity gotten out of hand? These life-like Lenses are absolutely terrifying, and TBH, they're almost too real. Really, though, each artists' work is absolutely incredible, and deserves some sort of award.
Snapchat's Lens Studio launched back on Dec. 14, 2017, and now, it looks like members of the Lens community have taken their creativity to the creepy side, just in time for Halloween.
So, it's safe to say that Snapchat is getting hella festive for Halloween, and as a Halloween-obsessed individual, I'm really into it. Between the creepy clown and some sinister jack-o'-lanterns, I'm pretty sure I won't be able to fall asleep, like, ever again, but I mean that in the best way possible. Just remember to keep the hallway light on after you use them — you never know if they'll come to life and haunt you.