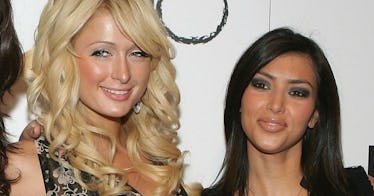 Here Are All The Shady Things Kim Kardashian & Paris Hilton Have Said About Each Other
Ethan Miller/Getty Images Entertainment/Getty Images
Celebrity relationships and friendships are a rare breed. These famous faces have their lives played out in front of the masses, whether it's the good, the bad, or the straight-up shady. In Elite Daily's new series, It's Complicated, we're highlighting the biggest celebrity "feuds" that took over Hollywood and dominated our Sunday brunches for weeks on end. We'll take a deep dive into the lives and social media feeds of our favorite stars and dissect what happened in front of the camera, what went down behind the scenes, and everything you might have missed in between.
It's almost impossible to imagine now, but waaaaay before anyone was keeping up with the Kardashians, Paris Hilton was the boss of Kim Kardashian. I mean that both literally and figuratively. Because not only was Hilton a hot It Girl in the mid-2000s while Kardashian was dabbling in obscurity; she also hired Keeks to help organize her closets and pick her outfits. You heard me. The queen of reality TV organized someone else's closet. As a JOB! Since then, the two have gone from being besties, to enemies, to friends all over again. Hilton may be planning to invite Kimye to her wedding, but it wasn't always smooth sailing for these guys. So, let's take a look at all the shady things Kim Kardashian and Paris Hilton have said about each other along the way.
It all started back when Hilton was filming The Simple Life with former BFF Nicole Richie. Kardashian made a bunch of guest spots on the show during 2003-2006 while helping Hilton get those closets under control. Of course, as with any "reality show," the actual nature of Kardashian's job on the show is definitely unclear. While some will say she was Hilton's assistant, she's definitely not here for that characterization of her role in Hilton's life. "I would work with Paris, and I would love to organize and clean out their closets and... shop for her. That was my job," Kim recalled during a May 2017 interview on Watch What Happens Live with Andy Cohen. "But people will say 'assistant.' They always have it wrong."
What's clear is the show definitely made whatever she was doing seem assistant-like.
Couldn't you just watch that all day?
Around that time, Kardashian and Hilton made appearances together on red carpets, which basically meant that Hilton happily toted Kardashian around as her plus one.
But enough about how their friendship started and on to the shaaaaaade. Let's not forget that one of Hilton's first major disses toward Kardashian actually came during one of The Simple Life episodes that aired during this time. See, Hilton and Richie had just been introduced to a girl named Kim Ho. And then this happened:
OK, so technically it was Nicole Richie who said it. But check out Paris nodding along. Such a diss!
But the pair didn't have a major falling out until 2008, when Paris Hilton reportedly had a whole lot to say about Kim Kardashian's famous butt during an interview on the Chet Buchanan and the Morning Zoo radio show in 2008. According to Gawker, Hilton said, "I would not want [Kim's butt] — it's gross! It reminds me of cottage cheese inside a big trash bag."
That's the kind of cutting remark you just can't shake, you know? And Kardashian acknowledged that the comment created a major rift in the friendship. "I haven't talked to her in a few years," she told Howard Stern in 2009. "We were good friends… She did call me to apologize."
As Justin Bieber would say, it was apparently too late to say sorry, because the feud was alive and well in 2010, when the two girls reportedly brought out the claws at Lavo in Las Vegas. E! claims Kardashian was pissed that Hilton was hanging out with her then on-again, off-again boyfriend Reggie Bush. So, after the DJ played Hilton's song "Stars Are Blind" — you knew she had a song, right? — Kardashian reportedly took the mic and said, "Now let's hear some real music!" Oooh, burn!
Then, in a 2011 interview with Harper's Bazaar, Kardashian had even more to say about Hilton. "We don't really talk," she told the publication. "As I always say, everyone comes into your life for a reason, a season, or a lifetime. There comes a point in life where you just grow apart and you realize you're not as similar as you thought."
Spill that tea, Kim!
But Hilton got her back a few months later, in April of that same year, when she turned up on Entertainment Tonight and made this infamous claim:
Is it true? Possibly. "Introduced Kim to the world" would probably be more accurate than "created," though. And Kardashian must have agreed, because she low-key fired back a year later on the red carpet before the White House Correspondents' Dinner with this amazing snub when asked what she thinks of Hilton.
These girls definitely don't mess when it comes to throwing all the shade. But then... a strange thing happened two years later — Hilton and Kardashian's friendship appeared to be on the rebound. Hilton even made an appearance on Kardashian's Instagram feed — and the two of them are smiling and laughing!
And this past February, Hilton was a lucky recipient of one of those dope heart-shaped KKW candy press boxes that housed Kardashian's limited edition Kimoji fragrance.
Moral of the story? No matter how bad it gets, never give up hope that one day, it will all be cottage cheese in a trash bag under the bridge.
I still wouldn't send my former enemy a mallet, though.