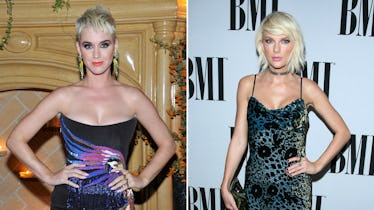 4 Times Katy Perry & Taylor Swift Threw Low-Key Shade At Each Other
John Sciulli/Mark Davis/Getty Images Entertainment/Getty Images
Celebrity relationships and friendships are a rare breed. These famous faces have their lives played out in front of the masses, whether it's the good, the bad, or the straight-up shady. In Elite Daily's new series, It's Complicated, we're highlighting the biggest celebrity "feuds" that took over Hollywood and dominated our Sunday brunches for weeks on end. We'll take a deep dive into the lives and social media feeds of our favorite stars and dissect what happened in front of the camera, what went down behind the scenes, and everything you might have missed in between.
It seems like the drama between Katy Perry and Taylor Swift is never-ending. Will these two ever kiss and makeup? Sadly, it looks like it's pretty unlikely for that to happen any time soon. While there have been times both seemed to be open to the idea of a reconciliation, the fact that there have been so many shady moments between Katy Perry and Taylor Swift makes me think that it would take more than a simple apology for these two to get along.
Katy, Taylor: If you DO feel like burying the hatchet, I suggest you two split a delicious dinner, a nice bottle of wine, and hug it out. Until then, the world will just be sipping its proverbial tea, re-living all of your drama.
Below are just a few times where Perry and Swift made it crystal clear that they aren't on each other's speed dial.
1. September 2014: When Swift revealed that "Bad Blood" was about someone in the music industry.
It's pretty obvious that Swift's song "Bad Blood" is about someone who she's got beef with. Many fans speculated that her song had to be about an ex-boyfriend, but Swift set the record straight herself in an interview with Rolling Stone. On Sept. 8, 2014, she revealed that she wrote the song about another female artist, but declined to name who it was. She said:
For years, I was never sure if we were friends or not ... She would come up to me at awards shows and say something and walk away, and I would think, 'Are we friends, or did she just give me the harshest insult of my life?' ... She did something so horrible. I was like, 'Oh, we're just straight-up enemies.'
She continued, saying,
And it wasn't even about a guy! It had to do with business. She basically tried to sabotage an entire arena tour. She tried to hire a bunch of people out from under me. And I'm surprisingly non-confrontational – you would not believe how much I hate conflict. So now I have to avoid her. It's awkward, and I don't like it.
Ouch, that's harsh, Tay.
Rumors began to come out that it was Perry who Swift had in mind while writing the song, and, while Swift never fully confirmed the rumors or not, when Perry went on The Late Show With James Corden in May of 2017 and admitted her relationship with Swift was less than pleasant, it was basically the closest thing to a confirmation fans felt were going to get.
You can watch the video below, where Perry tells James Corden that Swift "started" the feud:
2. August 2017: When fans thought that Perry's "Swish Swish" video was loaded with Swift references.
Is "Swish Swish" a jab at Swift? While there might not be any concrete confirmation from Perry herself on who the song is about, her video, which debuted on Aug. 24, 2017, sure does use a lot of symbolic references that fans feel are aimed at Swift.
If you've seen the video, you'll know that Perry's team, the Tigers, are going against their rivals, the Sheep. Fun fact: If this whole "sheep" thing sounds familiar, that's because Perry tweeted wayyy back in 2014 about keeping an eye out for "the Regina George in sheep's clothing," which fans thought was aimed at Swift:
The shade is strong with this one, you guys.
3. November 2017: When fans thought a handful of songs from Swift's Reputation album threw shade at Perry.
I think many fans know by now that Swift's album, Reputation, released on Nov. 10, 2017, was chock-full of digs. Hey, if you've got a platform to air your dirty laundry, go for it. And air dirty laundry, she did. In true Swift form, she didn't point the finger directly at Perry, but a few songs immediately jumped out to fans as shady.
In Swift's song, "Look What You Made Me Do," she points out that she doesn't like someone's "little games," and she straight-up admits, "No, I don't like you." Though there were plenty of Kim Kardashian and Kanye West references that stuck out, there were still many who decoded these lyrics to be about one person: Katy Perry:
And, in Swift's song, "This Is Why We Can't Have Nice Things," the lyrics were more pointed, if that's even possible:
This is why we can't have nice things, darling, Because you break them, I had to take them away, This is why we can't have nice things, honey, Did you think I wouldn't hear all the things you said about me? This is why we can't have nice things
I mean, let's be real. How could this be about anyone OTHER than Perry?
Elite Daily reached out to Taylor Swift's team for confirmation, but didn't hear back at the time of the album release.
4. March 2018: When Perry said she loved Swift... as a songwriter.
Perry wasn't taking the subtle route with this one, throwing some *polite* shade Swift's way on national television. But it's the way she does it that speaks volumes about their relationship.
As a judge on American Idol, Perry was there in March of 2018 for all of the auditions for the popular show. When the judges asked one contestant who he looked up to as an artist, he said, "Sorry for this, Katy... Taylor Swift."
Perry didn't skip a beat, and said, "Oh, you don't have to be sorry," but before she could finish her sentence, the contestant enthusiastically said, "I love Taylor Swift."
Perry's response? "I love her... as a songwriter as well."
Oh my.
You'll want to watch the video to realize the extent of the shade:
You *cannot* tell me that the shade doth not runneth over here.
So, what does all this mean, folks? The answer is simple: If you have beef with someone, just become a pop star and write all of your songs about them, but never admit who, exactly, they're about.
Clearly, it's been working out juuuust fine for Perry and Swift.