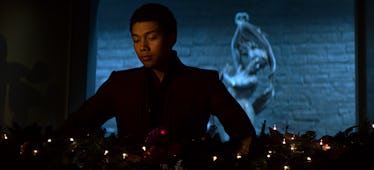 These 'Sabrina' Christmas Special Photos Will Get You In The Spooky Holiday Spirit
Netflix
Netflix's establishment of their own stable of popular series has made it so the streaming giant can do something that has been a hallmark of broadcast series for ages: Christmas specials. It's bringing over the Christmas specials of shows like The Great British Baking Show, and series like Nailed It! and Fuller House. But perhaps the biggest title in their stable to get a Christmas-themed episode is Chilling Adventures of Sabrina, with an episode entitled "A Midwinter's Tale." These Sabrina Christmas special photos Netflix released this week prove just because it's Christmas doesn't mean the Church of the Night won't celebrate.
In fact, the Winter Solstice is a big deal for Sabrina's coven, according to the synopsis:
The Church of Night, like all covens, celebrates the Winter Solstice — the longest night of the year — when families gather around the Yule Fire to sing pagan carols and tell ghost stories. But the holidays are also a time for guests and visitors — both welcome and unwelcome — you never know what might come down the chimney...
But the real reason fans are excited is this is the first time viewers will get time with Sabrina since she signed her name in the Book of the Beast.
From the looks of it, her hair game is still going strong.
Aunt Zelda never seems to look like she's having fun, and the holidays are no exception. But then again, raising a covert baby is exhausting work. Will Hilda have agreed to help? Are they now in separate bedrooms?
As for Aunt Hilda, she apparently doesn't trust her ginger cookies. They could rise up and start a revolution. Or maybe the eggs are about to begin marching in formation. At least viewers know her supposedly-mortal boyfriend is more than he seems, so perhaps he can save her from whatever is about to attack in the kitchen.
Ambrose seems to have the Master Decorator role well in hand. No one is surprised. It will be good to check in on how his relationship is going, considering how uncomfortable he looked the last time viewers saw him at the Academy of Unseen Arts.
As for the Weird Sisters, Prudence is all about lighting the candles.
Dorcas looks like she has a Solstice Surprise up her sleeve.
And Agatha will be dressing for the occasion.
As for those Sabrina left behind in Baxter High, one wonders how Ms. Wardwell is faring after her night with the principal.
Harvey and Sabrina are still on the outs from the looks of this image, instead of having a sweet moment under the mistletoe.
But Rosalind looks to be having a lovely time. How much will this change after she has an episode or two of seeing things more clearly with her cunning?
Susie, on the other hand, makes the best elf ever. No one is allowed to argue on this point. It is a fact.
The Chilling Adventures of Sabrina Christmas special, "A Midwinter's Tale," will arrive on Netflix on Friday, Dec. 14, 2018.