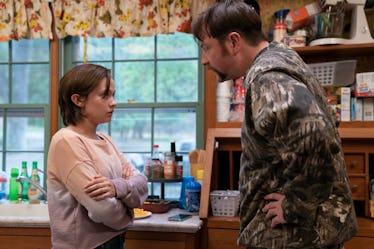 Reddit Is Going Wild With Theories About Who Killed Erin On 'Mare Of Easttown'
HBO
HBO's mystery series are always great fodder for the whodunit crowd. From the original season of True Detective to the recent hit The Undoing, fans turn into amateur detectives trying to solve cases before the characters onscreen do. But with nearly everyone in Easttown as a possible suspect in Erin McMenamin's killing, it's tough to break down the actual suspects from the red herrings. Luckily, these Reddit theories about who killed Erin on Mare Of Easttown are here to help viewers think the possibilities through.
Three episodes in, fans are starting to be able to at least guess who didn't do it. Dylan, for instance, the supposed father of Erin's baby, was a natural suspect at first. But after not confessing even when held at gunpoint by her father, it seems like he's innocent.
In the same vein, one could have suspected Kenny, Erin's abusive father. But if Kenny did it, why would he go trying to shoot Dylan? And why would he turn himself in voluntarily and confess to one but not the other? None of that makes sense.
With these two super-obvious suspects out of the way, let's run down the other most likely suspects, according to Reddit: