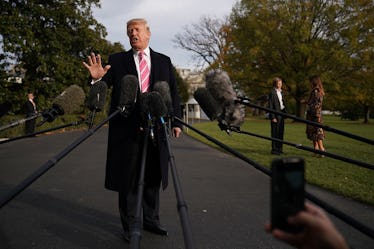 These Photos Of Trump & Obama's Thanksgivings Show Two Very Different Celebrations
Chip Somodevilla/Getty Images News/Getty Images
Just over a year after the 2016 elections, Donald Trump just celebrated his first Thanksgiving as president. But like many things about his presidency, his festivities aren't exactly in keeping with tradition. These photos of Trump and Obama's Thanksgivings show two very different celebrations during their time in office, even after only one year for the former, and one year without the latter.
"HAPPY THANKSGIVING, your Country is starting to do really well," Trump tweeted on Thursday, Nov. 23. "Jobs coming back, highest Stock Market EVER, Military getting really strong, we will build the WALL, V.A. taking care of our Vets, great Supreme Court Justice, RECORD CUT IN REGS, lowest unemployment in 17 years....!" The president spent his Thankgiving holiday away from the Washington buzz at his Mar-a-Lago resort in Florida.
Here's a side-by-side of what the two presidents did for their official Thanksgivings.
Obama usually spent his Thanksgivings in D.C.
According to CNN, the Obamas often spent the holiday at their upstairs residence in the White House, though it is not unusual for presidents to opt to make a quick getaway at private family residences or stay at Camp David, per the official White House website.
Trump, in just his first year, had made a statement that he planned to do otherwise. The Mar-a-Lago affair was said to be an opulent one, according to CNN, replete with crystal chandeliers and gilded, well, everything. The dinner was to be held in the members'-only club.
Obama usually volunteered during his holiday.
Most years, the former president spent time on Thanksgiving Eve giving a helping hand to soup kitchens and retirement homes in the area.
Trump was already in Florida by the night before Thanksgiving. He spent lots of time golfing over his time off from D.C., including a round with Tiger Woods on Friday.
Trump's menu was apparently elaborate.
The White House has said that presidents' Thanksgiving menus generally include both traditional staples and regional dishes, depending on what the First Family wants. According to CNN, Obama was a big fan of pie, and there were always at least six different varieties on tap for their annual meal. Last year, Obama's Thanksgiving lineup had 28 dishes on it (though a lot of those were pie).
This year, the Trumps were said to be dining on traditional fare like turkey and sweet potatoes, as well as a couple of Florida specialties. But last year, the first-family-to-be had a spread of 24 different dishes, which included a chilled seafood display and a carved leg of lamb.
Both presidents shared thanks to the troops.
Following tradition, the current president took time out of his Thanksgiving Day to express appreciation for the the country's troops serving abroad. But how they did this looked different.
Obama usually called representatives from all five branches of the military while at the White House for the holiday.
Trump called troops from what The New York Times described as a "lavish room" in his Palm Beach resort.
Trump also made in-person thank-yous. He tweeted a video of him presenting food for the U.S. Coast Guard in Riviera Beach on Thursday. "My great honor to join our incredible men and women of the @USCG, at the Lake Worth Inlet Station, in Riviera Beach, Florida today!," he wrote.
As Business Insider points out, the spread that Trump brought for the Coast Guard was, well, not exactly traditional — or healthy. Comprised of fare that was largely pre-packaged and processed, it wasn't something you'd likely ever find on the Obamas' table, given the previous administration's focus on nutrition.
Trump didn't refrain from his Twitter attacks, even on the holidays.
Trump found the time over his holiday to critize the NFL and its leadership for the umpteenth time and called LaVar Ball an "ungrateful fool." But his predecessor did something different with his online platform. For his first Thanksgiving out of office in eight years, Obama shared a heartwarming photo and message with all. But given how opposite their Thanksgiving were in most other respects, maybe some Twitter ranting was to be expected.