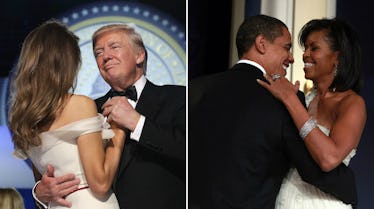 These Photos Of Trump Dancing Compared To Past Presidents Are Too Good
Chip Somodevilla/Mark Wilson/Getty Images News
Things are not exactly ideal in the current political landscape. With that in mind, every once in a while, it helps to laugh about something silly. There are moments in a president's term that I would characterize as lighthearted and fun, and these photos of President Donald Trump dancing compared to past presidents show the range of personalities (or lack thereof) Americans have come to expect in the White House.
The first opportunity for a president to dance, as president, comes at the Inaugural Ball — a ritzy dinner reception with D.C.'s most high-profile guests in attendance, following said president's inauguration ceremony. It's usually an awkward situation, because how many people really know their way around a ballroom dance, you know? Most folks end up gently swaying vaguely to the downtempo music emanating from the orchestra. But, I digress.
Yes, most inaugural dances are awkward — but Trump's was especially awkward. It was painful. He and first lady, Melania, slowly bobbed around for a bit before Trump flashed the crowd with his signature thumb's up. In fact, he was more attentive to the crowd than he was to Melania as I see it, so the resulting move was that they started occasionally swaying on separate beats from each other.
Then, there was their lack of hand clasp, which was truly terrifying. Because Trump kept ogling the crowd — throwing his arms up and jeering at them — his left hand kept leaving Melania's right. When they decided to resume dancing, he would just palm his hand awkwardly on top of Melania's, kind of like how "paper covers rock."
What is going on here? He is grabbing her pointer finger with his entire fist. Why? Why not just hold hands the traditional, not-at-all-uncomfortable way?
You get the picture. It was rough. So, how did President Barack Obama's first inaugural dance go in 2009, compared to Trump's? Well, it was about a thousand times less awkward.
The Obamas know how to dance — Michelle more so than Barack. Oh yeah, and f*cking Beyoncé performed a dazzling rendition of "At Last," as made famous by Etta James at the 2009 Inaugural Ball. I cried twice.
Clearly, the Obamas look like they know what they're doing on the dance floor, as compared to the Trumps.
Trump also differs from other presidents in that he hasn't really been caught dancing in more lighthearted settings. Obama and George W. Bush have both been known to clown around on the dance floor or joke with reporters — Trump, who has called the press "the enemy of the American people," has forgone much of that camaraderie.
Beyond the Inaugural Ball, for example, Obama has showed off some of his signature moves in other settings, like the Prince performance at the White House. Obama discussed his dance moves on Netflix's My Next Guest Needs No Introduction with David Letterman in 2018 and shared a photo of him and Prince that went viral.
"The key is what we call staying in the pocket," Obama joked.
President George W. Bush — whose Inaugural Ball dance was fairly normal compared to Trump's — had his fair share of awkward dancing moments throughout his presidency. These moments of lightheartedness were few and far between, but they are certainly memorable.
In 2007, he turned what was supposed to be a photo-op with the KanKouran West African Dance Company in the Rose Garden at the White House, into a full-blown performance. The event was for Malaria Awareness Day in 2007, per an archived Bush White House website. The dance company began hammering out a drum beat and clapping for the then-president to get involved — and he did, per The Washington Post. Boy, did he get involved. Bush began bouncing around to the beat and banging on the drums and enjoying himself. It was an especially goofy moment, that, in retrospect, makes Bush seem way more likable (considering his dance moves outside of politics, however you feel).
Then, at a 2008 press conference, Bush struck again — dancing and joking with reporters while they waited for Sen. John McCain to arrive, per The Associated Press. It makes me wistful for a time when the president and the press could actually joke around together without pandemonium.
The unholiest of unholy dance moves that I have seen in the last two decades didn't happen while Trump was president, but they were performed by him. You've probably seen his parody of Drake's "Hotline Bling" from when he hosted Saturday Night Live in October 2015.
I don't think anyone wants to revisit that especially horrific moment of popular culture history — especially given the tumult of Trump's presidency as we now know it. But yeah, there was that other time he danced weird.
All in all, it goes to show you that the last few presidents have their own distinct style and flare when it comes to cracking jokes and trying to make people laugh. Some have just pulled it off better than others.