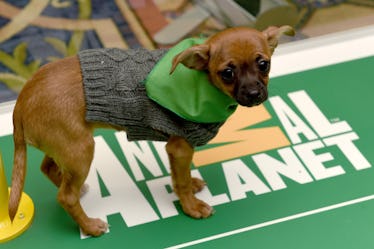 These Adorable Pics Of The Puppy Bowl Dogs Will Make You Swoon So Hard
Amanda Edwards/Getty Images Entertainment/Getty Images
Sunday, Feb. 4 is a big day in the sports world — both human and puppy. Of course, Super Bowl LII is happening in Minneapolis, but there is another highly-anticipated (and arguably more adorable) contest taking place as well: the Puppy Bowl. If you're not familiar with the Puppy Bowl, it's pretty much the cutest football game ever. If you need proof, just take a look at these photos of the Puppy Bowl dogs.
The Puppy Bowl, which airs on Feb. 4 on Animal Planet at 3 p.m. ET, features canine competitors from animal shelters all across the U.S. This year's game pits Team Ruff against Team Fluff, and both teams are stacked with some "impawsibly" adorable pups (apologies, but puppy puns are necessary). Before hitting the gridiron on all fours, these doggos struck a pose for the camera, and even though you might not be able to handle the fierce cuteness of it all, you should definitely take a peek at these pups ready for all the Puppy Bowl action.
According to the Animal Planet website, there are 39 dogs in the starting lineup for the Puppy Bowl, but there will be 90 adoptable pups (!!!) in total. Many of the pups up for adoption came to shelters after being affected by the natural disasters in places like Puerto Rico, Houston, and Florida.
Carlo — Team Ruff
Carlo, the 15-week-old Pug from Miami-Dade County Animal Services in Florida, is ready to compete for the "Lombarky" trophy (apparently the Puppy Bowl likes puns, too) with his adorably furry head held high and determination in his eyes.
Hannah — Team Ruff
Hannah is standing tall after being rescued when she was just one day old, but this American Staffordshire Terrier-Bulldog is now 13 weeks old and ready to compete. She brings her grit for the game with her all the way from the Villalobos Rescue Center in New Orleans.
Ana — Team Fluff
Even though Ana's team name, Team Fluff, might not sounds as ferocious as the opponent, Team Ruff, this 17-week-old Australian Cattle Dog is ready to score the cutest touchdowns. She brings her talents to the Puppy Bowl all the way from the Sebastian County Humane Society in Arkansas.
Mr. Wigglesworth — Team Ruff
Mr. Wigglesworth is a 15-week-old Shar-Pei, and Team Ruff will definitely get a boost from his puppy play. Plus, he really adds some fun to the team's "name game," wouldn't you say? He joins the team from the Florida Little Dog Rescue.
Blueberry Pie — Team Fluff
This Miniature Poodle-Chihuahua sure brings the sweetness to Team Fluff. Don't underestimate her, though, because even at 15 weeks old, Blueberry Pie also supplies her team with some street credibility by making her way to the Puppy Bowl from the Badass Brooklyn Animal Rescue in New York.
Lila — Team Fluff
This Chihuahua-English Toy Spaniel hails from the Morris Animal Refuge in Philadelphia, so there's a good chance the 15-week-old pup will be rooting for the Philadelphia Eagles later in the day. But while she's on the Puppy Bowl field, Lila has all eyes on her canine competition.
Morris — Team Ruff
Morris appears to be the small-but-mighty type. This 14-week-old Pomeranian won't let his small stature stand in the way of a possible Puppy Bowl victory. From the looks of that hind-leg stretch, this pup from the Florida Little Dog Rescue will clearly give it his all on the field.
Luna — Team Fluff
Like Morris, Luna proves that great things come in small packages. The 17-week-old Pomeranian-Miniature Pinscher is all paws on deck when it comes to securing a win for Team Fluff. She looks locked-in on the competition, and she joins her team at the Puppy Bowl from the Blue Water Area Humane Society in Michigan.
Of course, this is just a sampling of the fluffy pup players that are up for adoption following the Puppy Bowl. If you want to adopt a football playing furry friend, you can visit one of the local shelters near you. The Puppy Bowl currently boasts a 100 percent adoption rate, so you know you're tuning in to a good cause as well as the cutest four-legged competition on television when you cheer for the Puppy Bowl on Sunday.