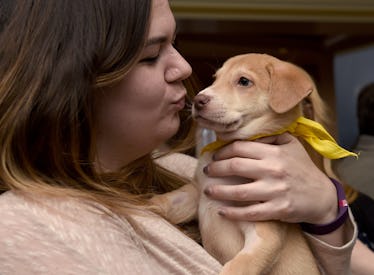 The Puppy Bowl Lineup For 2018 Is Here & All Players Are Paw-sitively Perfect
Amanda Edwards/Getty Images Entertainment/Getty Images
Every February, millions of Americans tune into a giant football game widely known as the "Super Bowl." If an abundance of food, an incredible music performance (where Beyoncé hopefully shows up), and the Puppy Bowl are the real reasons why you congregate every year in a very crowded living room, then I'm totally with you. Appeasing thousands of anti-football Super Bowl attendees worldwide, the Puppy Bowl has graced our Super Bowl Sunday pre-games since 2005, and this year's 2018 Puppy Bowl lineup is honestly as amazing as ever.
Prior to the endless and loudest football game in history, the ever-renowned Puppy Bowl will be broadcasting nationwide on Animal Planet, starting on Sunday, Feb. 4 at 3 p.m. ET. Two fluffy teams of adorable and lively young pups will face each other for the ever-elusive "Lombarky" trophy. This year, Team Ruff will be taking on Team Fluff in Geico's new state-of-the-art bone-shaped stadium, and we're already chasing our tails thinking about it. To appease the millions of puppy lovers everywhere who are currently waiting on the edge of their seats, photos of this year's competing pups have finally surfaced, and viewers are not disappointed.
Let's reflect on this spectacular lineup. From Buttons, the cocker spaniel, to Kelly Barkson, the pitbull-lab, each mighty pup is furry and fluffy — and each of their smushy faces have quite honestly already won my heart. According to Rolling Stone, each dog was rescued from Houston, Puerto Rico, and Florida's 2017 natural disasters, and Animal Planet reportedly worked with 48 animal shelters in 25 different states and U.S. territories to recruit the wiliest and most adorable Puppy Bowl players.
According to Broadcasting Cable, Animal Planet's "tail-gaiting" will start off with a rowdy little pre-game show at 2 p.m. ET, including a riveting "aww-nalysis" beforehand. In addition will be some good old "cuddly commentary" from sports anchor James Hound, Rodt Weiler, and Sheena Inu, and for the seventh year in a row, Dan Schachner will be the "rufferee." We couldn't be more pup-cited.
Also, Rolling Stone reports that for the first time in Puppy Bowl history, die-hard fans and puppy owners nationwide will be able to create digital copies of Puppy Bowl trading cards, using photos of their own puppers. With a vast selection of 10 different doggo-themed frames, with the option of adding stats like "Pawsome Talent," and "Naughtiest Habit," this is honestly the best new feature to grace our dog-loving lives, finally soothing our canine cravings. And if you too have also already fantasized about adopting the team's cutest dalmatian, Chance, you can even make a trading card for him.
To make our lives a little bit easier (and a whole lot cuter), fans will be able to track the scores, stats, and thoughts of the broadcasters on Animal Planet's website, Instagram, Facebook, and Twitter, throughout the day of the Puppy Bowl (mostly so you can keep a close lookout for Clyde, the corgi, though). So if you're still craving some doggos, even as the football game tears your family and friends apart, you're in luck — because these brave pups will be all over the internet, and it's literally saving our lives.
The biggest doggo competition of the year, the Puppy Bowl, definitely won't be something you'll want to miss. From Hannah, the pitbull-bulldog, to Carlo, the pug, there are so many perfect floofs we're looking forward to watching during this year's ruff n' tough game. So make sure to tune into Animal Planet before that wild football game, and bark along with your favorite fluffy friends while they play their little hearts out on live TV.
Check out the entire Gen Why series and other videos on Facebook and the Bustle app across Apple TV, Roku, and Amazon Fire TV.