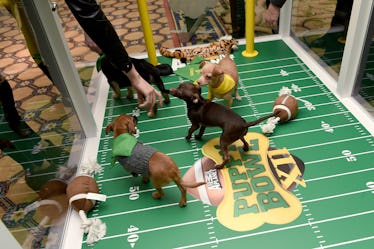 If You Want More Time With The Puppy Bowl Dogs, We Have Some Great News
Amanda Edwards/Getty Images Entertainment/Getty Images
Sports are cool and everything, but let's be honest, the real MVP's of the Sunday night shindig are the Puppy Bowl players. Featuring a litter of pawsitively adorable fluff balls, this much loved tradition reaches an audience of millions, but sometimes a just one day isn't enough to fully experience the cuteness. So we need to know. Can we adopt the dogs from the Puppy Bowl?
The answer? Absolutely! Each of the puppies featured in the annual Puppy Bowl comes from one of a variety of pet shelters across the country, and are all available for adoption. Rejoice! In fact, as if we weren't already overcome by good news, the Puppy Bowl currently holds a 100 percent adoption rate!
So one of this year's 14th annual Puppy Bowl players might possibly be your newest best friend. While 90 pups will be attending the bowl this year, only 39 are set to start. However, they seriously are the cutest starting lineup yet. Tom Brady eat your heart out.
Since the inauguration of the Puppy Bowl in 2005, the Animal Planet's program has received huge success among television audiences. Not only that, but in starting in 2014 both Animal Planet and New York-based ASPCA Adoption Center began hosting fee-waived animal adoption events across the country, for which Animal Planet pays the adoption fees. On Jan. 8, 2017 "Puppy Bowl Season" began at the ASPCA animal shelter in New York, which led to 26 adoptions of both cats and dogs.
My heart can't handle it.
The stars featured in this year's Puppy Bowl have proven to be strong fighters already, having been rescued from natural disaster areas such as Puerto Rico, Houston, and Florida. True champions.
Puppy Bowl referee Dan Schachner sat down with People to discuss this season's roster. "We've got special needs dogs, we've got dogs from areas that have been affected by natural disasters, so a really incredible roster this year," he said.
Where are applications to take Schachner's job? Asking for a friend.
But wait! There's more!
As if you weren't already completely sold on the puppies, a special guest will also be gracing the bone-shaped Geico stadium this year. Serving as the Schachner's assistant referee, an actual sloth will be in attendance to help decide whether Team Fluff and Team Ruff will take home the trophy.
Yes, this is real, people. Has anyone told Kristen Bell??
Lucky for us, we don't have to wait for the furry excitement until Feb. 4. For the first time ever, Animal Planet has introduced the "Dog Bowl," which features older, but equally as adorable, pups to compete for the grand prize. This one-hour special plans to air Feb. 3 at 8 p.m ET and all of these pooches will be available for adoption as well. Animal advocate Jill Rappaport told TODAY that the "dog bowl" was made in order to spotlight the older, often ignored, shelter dogs.
She said,
I've always made it my mission to focus on the underdogs of the shelter world, the seniors, the bully breeds and the special-needs pets, because those three are the toughest to get out. Senior pets are often the last ones left languishing at shelters. These dogs have been dumped in the twilight of their lives through no fault of their own. They're not damaged goods. They're the most special, beautiful animals in the world, but people keep walking past their cages.
Like they say, older but wiser.
And for those who might be more of a cat than a dog person (or sloth person), never fear. Hallmark will be hosting the fifth annual Kitten Bowl on Feb. 4, and all those superstars will be available for adoption as well! Working with the North Shore Animal League, which is the largest no-kill animal shelter in the world, they've have got you covered to find your purrfect feline companion.
Pups! Kittens! Sloths! Want to learn more about how you can adopt? Check out these adoption resources that'll help you find your newest best friend.