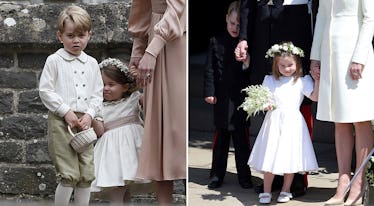 Prince George & Princess Charlotte Have Changed So Much Since Their Last Royal Wedding
Kirsty Wigglesworth - Pool/Getty Images; Andrew Matthews - WPA Pool/Getty Images;
Weddings are, above all, family events. While many family traditions have melted away in the face of the 21st century and societal changes, this one constant is true. When weddings happen, family members from far-flung areas get invited, and in the right kind of environment, the ceremony can be just as much a family reunion, and a chance to see how people are aging. Kids, of course, age quickest, and royal children are no different in that regard, which is why these photos of Princess Charlotte and Prince George at Prince Harry, Duke of Sussex and Meghan Markle's wedding show just how much the two little ones have grown since the last big family wedding.
That "last big family wedding," as fans of the UK extended royal family will recall, was the marriage of Pippa Middleton, Kate Middleton, Duchess of Cambridge's younger sister. Considered a socialite by the British press, she's actually a writer and author, though her fame really began on Kate's wedding day when she stood in as the Maid of Honor.
At the time, with Prince Harry not in any sort of serious relationship, the press was hoping that the Duchess of Cambridge's sister might be the one for harry, but that was never in the cards. Unlike her sister, Pippa is not one for all the burdens of the monarchy. Her choice of husband speaks to that as well, as she married James Matthews, a hedge fund manager. Not that he's any old hedge boring fund manager, he also happens to be heir to the Scottish feudal title of Laird of Glen Affric. But unlike some who would rest on their laurels of birth, Matthews is out there working as a banker and making sure his family has money, not just a title.
Pippa married last spring, in 2017, so it's been a year since this famous picture of the two tots was taken. In that time the family has grown again, with Kate announcing she was pregnant with Prince Louis later that summer. Rumor has it now it's Pippa's turn to be in the family way, though the couple hasn't officially confirmed it.
Kate, as her sister's Maid of Honor, brought both Prince George and Princess Charlotte, who were adorable in their little wedding outfits as part of the processional. Prince George was a Page Boy and Princess Charlotte was among the flower girls. This year, Prince George is filling the same role for his Uncle Harry's ceremony, while Princess Charlotte has been promoted to bridesmaid.
Check out how adorable they are.
This is the arrival shot, much like the one from Pippa's wedding last year. You can really see how the kids are growing. Charlotte is on the far left.
And here's a screenshot of both Prince George and Princess Charlotte inside St. George's Chapel. Prince George is the one on the far right here, dressed all in black, much like his father and uncle's uniforms. Princess Charlotte is standing in front of him. Though she is the closest female relation, note she has her own flower posey prop. She's still too young to be trusted to do the handoff for Meghan's bouquet. (That honor went to one of the older girls in the group.)
And this close up of Princess Charlotte might be an all-time classic. There's always one kid photo per wedding that catches the attention of the public, and this one seems to have been it.
This will be the last major royal wedding for the family, but not the last wedding Prince George and Princess Charlotte will be attending. Prince William and Prince Harry's cousin, Princess Eugenie is engaged to be married, and her wedding is coming this October, on the 12th. Most likely both Prince George and Princess Charlotte will be part of the wedding party once again, for another moment in the history books, and the family -togethers, to see them grow.