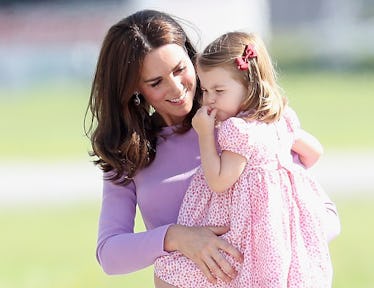 Prince Harry & Meghan Markle Had The Cutest Bridal Party & These Photos Prove It
Chris Jackson/Getty Images Entertainment/Getty Images
For people who get married, deciding who makes the cut, and who doesn't in their bridal party can be indicative of who means the most to them in their life. The future wedding couple often even finds cute as hell ways to incorporate these people and their "elevated" wedding position by being part of the official party. Sometimes people are even kicked out of a wedding party. Talk about harsh.
But for royalty, of course, it is different than a sign of status and closeness to the main couple of the day. And photos from the royal wedding reveal that Prince Harry, Duke of Sussex, and Meghan Markle, Duchess of Sussex, have kept in line with recent royal tradition of having mainly children as members of their wedding party.
"If you look at the royal weddings since [Queen] Elizabeth's, you will find that most of the bridesmaids are early teens or children," royal expert Marlene Koenig told Town & Country Magazine. She did mention that Duchess Kate selected Pippa as a maid of honor. "Catherine had her sister, because the two are close, but [Meghan] has no close sisters," Koenig said. "I doubt Meghan will have any adult attendants at all."
You read that right: Meghan and Harry, instead of selecting their wedding party from their closest friends, continue the traditional route of having young adults and children instead.
Photos from the wedding show the bridesmaids and page boys, which are: Harry and Meghan's nephew Prince George and niece Princess Charlotte, Meghan's friend Jessica Mulroney's daughter, Ivy, and her sons, Brian and John, Prince Harry's goddaughters Florence van Cutsem and Zalie Warren, Mark Dyer's, a friend of Prince Harry's, son Jasper, and Meghan's friends Benita and Darren Litt's daughters Rylan and Remi.
The bridesmaids and page boys were accompanied by their parents –including Catherine, Duchess of Cambridge – as they entered St. George's Chapel.
Meghan stepped out of her car accompanied by two page boys, and as she walked down the aisle, she was trailed by the children holding her veil.
And for Meghan's maid of honor? She chose to have none.
"Meghan has decided not to have a Maid of Honour at the #royalwedding," Daily Mirror's Royal Correspondent Victoria Murphy tweeted. "A source said: 'She has a very close knit group of friends and did not want to choose one over the other.'"
So, yeah, unfortunately Meghan's maid of honor wasn't Priyanka Chopra, Serena Williams, or close friend Jessica Mulroney, even though they all were in attendance at the event. They were snubbed. Joking. If this is any indication of how Meghan will be as a Princess ( ... OK, Duchess), it appears she will be diplomatic and fair.
Chopra posted a behind-the-scenes photo of preparing for the royal wedding early morning, day-of.
She captioned the photo, "Pre Wedding SHEnanigans! 12:10 a.m. the morning of ... and still waiting for the dress! 📌"
Williams also shared photos from England before the royal wedding. "Ready for my friend's wedding," she commented on Twitter. Williams is wearing a pink ensemble – including a fascinator – and attended the wedding with her husband, Alexis Ohanian.
As for Harry's right-hand man at the ceremony? Well, he has a brother he's close to.
Just as Harry served as his older brother Prince William's, Duke of Cambridge, Best Man in his 2011 wedding to Catherine, Duchess of Cambridge, William will now return the favor and be his little brother's Best Man, too.
Anyway, just because Meghan and Harry's inner circles won't be officially in the wedding, it doesn't mean they didn't help the pair along the way leading up to their wedding day.
Meghan reportedly surrounded herself with her best buds before the wedding, even though they didn't have the title of being in her wedding party.
"[Meghan's] friends will be in Windsor in the days before the wedding, celebrating with her in the build-up to the day and helping her in an unofficial capacity on the day," The Telegraph reported. Meghan got ready at the Cliveden House before the wedding, and Harry at the Dorchester Collection's Coworth Park. After their wedding, the new official royal husband and wife will stay overnight at the Windsor Castle, according to Architectural Digest.
Even though Meghan didn't have a traditional – AKA commoner – group of bridesmaids and bridal party, her wedding is still ranking as the event of the year.