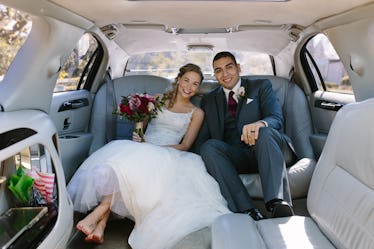 Every Bridal Limo Needs A Goodie Bag Of Lit Essentials & Here's What To Put Inside
There's so much to love about weddings. From the reception venue to the floral arrangements, there are so many details to truly make the day your own. The ceremony is emotional, the reception is a blast, but somehow, everyone might be so busy that they forget about the hour or so you spend in the limo in between with the whole bridal tribe. A prepared wedding means you know exactly what things to have in the bridal limo to make sure your celebration is off to the right kind of start. Champagne popping, commence!
Seriously, there's something to cherish about that little bit of time that you spend in the limo. You have all of your closest peeps right there, happy, excited, and on your way to the reception. It's a moment that can't get overlooked in the midst of all of the wedding planning. You want to make sure it's a time to relax, have fun, and get ready for the next big part of your day, aka the very busy reception. To make that happen, you'll need a checklist, and these nine things will be perfect items to enjoy by all while having fun heading to the reception. They can be personalized specifically for your crew's personality.