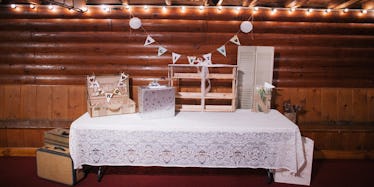 6 Sentimental DIY Gifts To Give The Bride And Groom On Their Wedding Day
Kevin Gilgan
Deciding what gift to bring to a wedding can be tough. It seems like everyone is going to be bringing the same blenders and mixing bowls, or going simple and giving the happy couple some cash.
What do you do when you want to give a unique gift that will stand out to the bride and groom? You can't go wrong with something you made with your own two hands.
These are 6 ideas for homemade gifts that are sure to warm the newlyweds' hearts.
1. Personalized cutting board
Even if the couple receives other cutting boards, your gift of a handmade, personalized cutting board will definitely stand out. You can transfer any image onto a regular wooden cutting board in just a few simple steps. Some ideas include their favorite recipe, their wedding date or even a picture of the two of them.
This craft is super simple. All you need is waxed paper, a printer and a wooden cutting board. You'll also need to know how to reverse an image on your computer, but if you don't, we've got you covered.
Once completed, this personal and unique cutting board will definitely earn a spot on their kitchen counter and earn you a spot in their hearts forever.
2. Picture coasters
A stack of beautiful, handmade coasters is the perfect gift for a wedding. These will be the perfect addition to the bride and groom's new home. And when the bride says, "Use a coaster!" her husband will actually have something to reach for.
Using inexpensive ceramic tiles and mod podge, you can easily create meaningful coasters with pictures of the happy couple, their families, their dog or even you with the bride. Plus, you'll get to have a lot of fun looking through the pictures to choose which ones you use.
When you're all done, you can stack the coasters and tie them together with a pretty ribbon to finish off the most wonderful present.
3. Hope chest
Traditionally, hope chests were used to store meaningful gifts for younger girls, such as photo albums, quilts and home goods. The reason for this was so the girls could use these items in their home once they were married.
These days, hope chests aren't quite used in that way, since a lot of them are now filled with more modernized items or used as a general storage area, but they can still be a really meaningful gift for the newlyweds. You can fill hope chests with pictures of you and the bride or groom, little odds and ends that symbolize your friendship or some other DIY gifts you have made for them.
You can create your own hope chest by building one from scratch or by re-purposing old furniture. Paint the bride and groom's name on the outside of the box for an even more unique touch.
4. Wedding date wall hanging
With this gift idea, you can get really creative. Anything that showcases the wedding date hung on the wall will be a meaningful gift.
You could use scrapbook paper and house numbers inside of a frame to help the couple remember their wedding date for years to come. Or, you could paint their last name onto a plaque and add "Est. 2016" (or the year they are getting married) for a cute touch.
Another idea is taking the wedding invitation and mounting it in a frame for them to keep forever. You can add buttons, artwork, scrabble pieces or any other craft supplies to the frame to make it special as well. Whatever you end up doing, making their wedding date a permanent part of their home will be very special.
5. Homemade candles
Other people might buy the couple candles, but will anybody take the time to make the candles themselves? Probably not. Creating your very own candles to give as a wedding gift is really thoughtful and will add a special touch when they are setting the mood for a romantic dinner.
There are many different types of candles you can make with different scents and colors. Some candles can even be used as lotion. Candles are actually really fun to make, so you might even end up making some for yourself.
6. Picture lamps
Here's another way to incorporate meaningful photos in a useful household item. Transferring pictures onto a lampshade creates a glowing photo album that will blow away the bride and groom. This is a project that looks like it took hours of work, but is actually pretty simple. Plus, it's so personal and special. It will for sure make the bride feel loved.
These projects will make your wedding gift the star of the show (besides the bride, of course)! Have fun with these DIY projects and get ready to be the bride's favorite person.