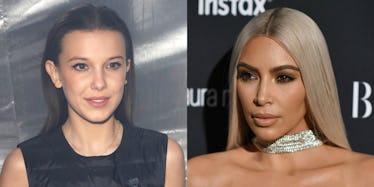 Millie Bobby Brown & Kim Kardashian Finally Hung Out & The Pics Are Great
VITTORIO ZUNINO CELOTTO/ DIMITRIOS KAMBOURIS/GETTY IMAGES ENTERTAINMENT/GETTY IMAGES
Although I can't quite manage to actually keep up with the Kardashians, it would definitely be difficult not to fan girl in the presence of Kim, Kourtney, or Khloé. Their level of confidence is unreal, and they have an undeniably fascinating way of living their fabulous lives. Even other celebrities are fascinated by them — and Stranger Things star Millie Bobby Brown, is no exception. So if you haven't already seen the photos of Millie Bobby Brown and Kim Kardashian together, they are beyond adorable, and Millie is obviously elated.
Millie Bobby Brown has expressed her love for the Kardashians on more than one occasion. She revealed her affinity for KUWTK on The Tonight Show Starring Jimmy Fallon, tweeted that she wanted Kourtney Kardashian to shake her salad, and has exchanged back-and-fourth Twitter love with Kim K several times. After posting her widely-known Kourtney Kardashian salad-shaking tweet and expressing her desire for a meet-up, Kim tweeted, "I can arrange this!" per People. And thus, a rendezvous was finally in store. Millie Bobby Brown and Kim Kardashian West's eventual hangout ended up being filled with a lot of fabulousness, as expected, and so much freaking love.
Based on Kim K and Millie Bobby Brown's matching Instagram stories, it's evident that the two became fast friends. I mean, seriously, just look at the two of them together — they are both so amazing and I can't stand it.
There's a likely chance that you're wondering what kind of conversations would arise between a 37-year-old model and a 14-year-old actress. Surprisingly, though, the two actually happen to have a lot in common. Aside from the fact that both famous ladies have Calvin Klein endorsement deals, per People, Brown is an avid fan of Keeping Up with the Kardashians, which is pretty cool.
In Millie Bobby Brown's interview on The Tonight Show Starring Jimmy Fallon, she describes her love for KUWTK and puts her knowledge to the test. She quotes several of the Kardashian sisters' catchphrases as if they were her own, and does really solid impressions of their mannerisms. She even gets Fallon to let out an impeccably accurate (and extremely hilarious) "okurrr," and I may have seriously died laughing. No joke, Brown is an undeniable Kardashian pro. "Bible."
Brown isn't the only celebrity to admit avid Kim K fandom, though. Jennifer Lawrence might actually beat Millie Bobby Brown's level of Kardashian fan-girling as a self-proclaimed die hard KUWTK fan and a friend of the entire Kardashian family. When Lawrence guest hosted on Jimmy Kimmel Live!, she had an absolutely wild interview with Kim K. She started out by asking her a slew of super personal and super funny questions, none of which Kim was prepared to answer. Kim took it like a champ, though, and J. Law was clearly getting a kick out of it. The two of them also discussed J. Law's experience of eating dinner at the Kardashian household — and even though it sounded like a somewhat hilarious disaster, it's definitely worth the watch.
Millie Bobby Brown meeting Kim K is what I'd imagine it would be like if I ended up somehow meeting Beyoncé... except I don't think Beyoncé would admire me as much as Kardashian seems to admire Brown (LOL, oh well). Both Brown and Kardashian are badass superstars, and while a hangout sesh for the two of them was way past due, I'm overjoyed that they were finally able to bask in the presence of each other. Now, J. Law just has to join them to officially get the party started... am I right? That would be a dream team, and I'd honestly be so jealous.