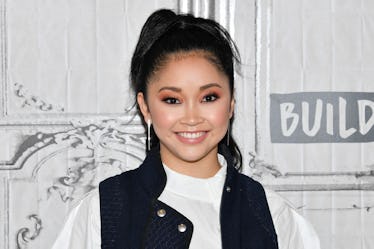 Here's What Lana Condor Looked Like Before She Was Famous
Dia Dipasupil/Getty Images Entertainment/Getty Images
Lana Condor is having a bit of a moment. The 21-year-old star of Netflix's To All The Boys I've Loved Before is one half of the internet's favorite fictional couple (aka Lara Jean Covey and Peter Kavinsky), making her and co-star Noah Centineo jump from relatively unknown actors to stars with over 3 million Instagram followers. The movie has only been out for two weeks. What was she like before the fame, though? These photos of Lana Condor before she was famous prove she was always a movie star in the making.
Condor booked some small roles before landing the leading lady gig in the film adaption of Jenny Han's best-selling novel of the same name. She appeared as Jubilee alongside Sophie Turner's Jean Grey in X-Men: Apocalypse and had a small role in Patriot's Day, a 2016 movie about the Boston Marathon bombing, but nothing has put her on the map like To All The Boys I've Loved Before. Given that she only booked her first role two years ago, it's impressive as hell that she's shot to where she is so fast. When ya got it, ya got it!
She revealed in an interview with the Build series that she actually failed her drama class before dropping out of school to pursue her role in X-Men.
Don't worry, she didn't fail because she was a bad actor (obviously). She turned in a paper late. The struggle is real, but it ended up not being an issue because she booked her first film role not long after.
So what was her life like before her first movie in 2016? She was a dancer, a theater kid, and a lover of spaghetti. Wait, am I writing about me here? Are Lana Condor and I the same person...?
Condor started out as a theater kid, which brings me so, so much joy. (One of us! One of us!) Here she is after seeing Hamilton for the first time in 2016.
She captioned the post, "This happened and I want the world to know 😱#hamiltonmusical#broadway#butfirst#lemmetakeaselfie (thnx mama Condor you da real MVP)."
Here she is, circa 2015, getting ready to tackle a huge bowl of spaghetti, aka me AF.
That's my dinner. Now, what's Lana gonna eat?
In 2014, Condor was pretty focused on her dancing skills. And here we have all the proof you need that she's fully trained.
Is it 6 o'clock already?
*Sutton Foster voice* "You wanna be a bunhead, huh?"
If you don't know what Bunheads is, do you even know art?
Ahhhh, yes. A classic Insta post from theater rehearsal encouraging people to buy tickets to the show. I know this move well.
And here's Lara, I mean, Lana in 2012 visiting NYC like a total tourist.
And here's the first photo she posted of her and Peter Kavinsky, uh... I mean Noah Centineo while they were filming To All The Boys I've Loved Before.
Remember the photo Lara Jean has set as her background during the movie?! This is it!! The story behind how this photo was taken will absolutely wreck you beyond repair.
The above photo was posted to Condor's Instagram on July 22, 2017, but it didn't grace our Netflix screens until Aug. 17, 2018, when the movie came out. To All The Boys I've Loved Before director Susan Johnson said that photo wasn't taken intentionally for the movie. Condor and Centineo just hang out like that. This is so sweet, I think I'm going to throw up.
Johnson said, "I can tell you. I don't think this will blow any magic in telling you what happened with that. That was actually one of our crew members who took that photo." She continued,
The two of them were in the green room on set at the high school location, in the area where we put the actors. They actually were sleeping on the couch in that room like that, so we just stood over them and took that picture and it's so friggin' cute. So yeah, we just borrowed it from our crew member. (Laughs.) There wasn't [a scene]. I could make something up but I actually think it's cute that they hang out like that.
Are we kidding?! This was a candid moment?! And it has existed since 2017 and we missed it?! Goodnight, everyone. I love Lana Condor with all of my being. And it's clear she's been just as amazing as she is now since, at least, 2012. And I love Noah Centineo. And To All The Boys I've Loved Before. Please give me a sequel. Plz.