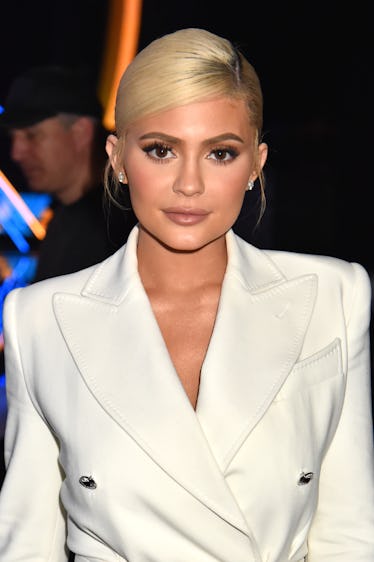 Kylie Jenner's Pink Private Jet Is So Glamorous, I Can't Deal
Jeff Kravitz/FilmMagic, Inc/Getty Images
Kylie Jenner not only travels in style, but she does so by way of a private jet. Oh, and this isn't just any jet. Kylie's jet was completely customized just for her, so it's basically a pink oasis with plenty of legroom. These photos of Kylie Jenner's private jet will give you so much FOMO.
Jenner hardly flaunts her lavish private plane, but, from time to time, fans catch a glimpse of the aircraft. When she launched her skin care line in May 2019, she took the trip of a lifetime with her besties, and you bet they took the jet on the excursion. Jenner took off to Turks and Caicos with Sofia Richie, Victoria Villarroel, Anastasia Karanikolaou, Yris Palmer, Tiffany Sorya, Ariel Tejada, and Amber Asaly. The girls were photographed rocking matching pink sweatsuits before embarking on the equally-as-colorful plane, and even before reaching their destination, it was the ultimate trip of luxury.
Jenner even updated her jet's exterior to read "Kylie Skin" instead of her usual "Kylie Air" in honor of her big launch.
It might have been the ultimate girls trip, but Travis Scott also made an appearance. He posed for a photo with his now-ex in front of the plane before takeoff.
Of course, such a lifestyle costs a pretty pretty penny, and the price of Jenner's jet reportedly falls between $50 million and $70 million.
Jenner's jet is not just a pricey purchase to ogle at, though. It also provides her with imperative family security. When she took daughter Stormi to Disney World in January 2020, she was able to escape busy airport crowds by opting to fly private. Rather than be bombarded by fans and paparazzi, Jenner and her tot were able to relax and enjoy the ride.
Jenner placed an entire bed in the plane, so she has no problem getting some shut-eye when traveling from city to city.
In February, Jenner once again showed off the jet, sharing a mid-flight pic to her Instagram page. "Brb baby," she captioned the photo, though she failed to say where she was jet-setting to.
On June 15, Jenner's older sis Khloé Kardashian shared some pics of the plane's interior. Koko shared a photo from the plane window to her Instagram stories. It was evident she was taking a trip with her sister, seeing as the words "Kylie Air" were embellished across a napkin reflected in the window.
It's no secret Jenner lives the ultimate life of luxury, but the pics of her private jet show just how glamorous her life really is.