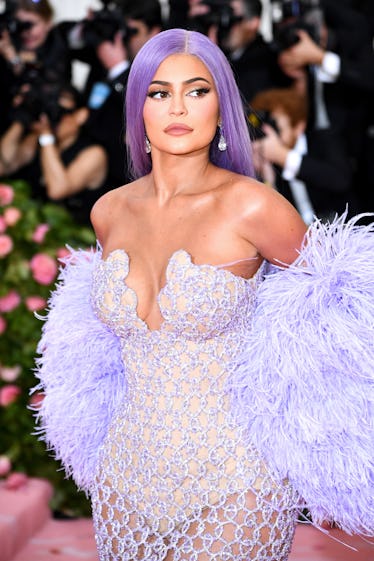 Catch Me With Dope AF Skin, Because Kylie Jenner JUST Confirmed Her Skincare Line Launch Date
Dimitrios Kambouris/Getty Images Entertainment/Getty Images
Well, it's official. Kylie Jenner has expanded her beauty empire even further by venturing into the skincare division with the finally confirmed launch of Kylie Skin, her new eponymous skincare line. On Friday, May 10, the beauty mogul took to her personal Instagram to announce that, not only is Kylie Skin confirmed, but it is set to drop very, very soon. So when does Kylie Jenner's skin line drop? According to her post, you can get your hands on the products come Thursday, May 22.
The youngest Jenner sister announced the new and long-awaited venture in an Instagram post with a picture of herself with bare skin (apart from Insta-ready brows, that is) and a caption that read, "KYLIE F*CKING SKIN! wow. skincare and makeup go hand in hand and Kylie Skin was something i dreamt up soon after Kylie Cosmetics. I've been working on this for what feels like a lifetime so i can't believe I'm finally announcing!"
Jenner announced the new line less than two weeks before it's set to become available for purchase, and according to the rest of the caption, Kylie Skin is a brand new company, separate from Kylie Cosmetics. "Building my makeup line from the ground up has taught me a lot and I'm so blessed with that knowledge to apply to my brand new company!" Jenner continued in her Instagram caption. "Birthing a whole new team, manufacturing, fulfillment etc separate from my cosmetics line was challenging but here we are! I got the best of the best for you guys!"
The new set of products will find their home on the brand new website, KylieSkin.com, and on Instagram @kylieskin. As of right now, the website is active and allows you the option to sign up for alerts to be sent to your email. When it comes to the new brand's Instagram account, Jenner's followers wasted no time following along for updates. About an hour after the announcement, the new Instagram account already had 215,000 followers.
The first post on the Kylie Skin Instagram account is a video of a bare-faced Jenner holding a light pink tube that reads "Kylie Skin By Kylie Jenner." In the new video, Jenner applies the contents of the tube to her face, and while it's not clear what exactly the product is, it's safe to say it could be some sort of serum or moisturizer.
Besides the subtle video, there's no word yet on what exactly you can expect for Kylie Skin to bring to your skincare routine, but according to the Instagram caption, every product will be vegan, cruelty-free, and devoid of parabens, sulfates, and gluten, not to mention, Jenner says all skin types can dip into these products.
It's no surprise that the Jenner sister moved into the skincare division. As she said, makeup and skincare go hand in hand, and if she's not seen rocking a full, dramatic face of makeup, then she's rocking a beautiful, natural bare face.
If you love all things Jenner and can't wait to get your hands on all of the skincare goodies that Kylie Skin is bound to bring, I'd suggest signing up for notifications from the new brand's site so you can be alerted as soon as the new collection drops. After all, Jenner's products are known to sell out.