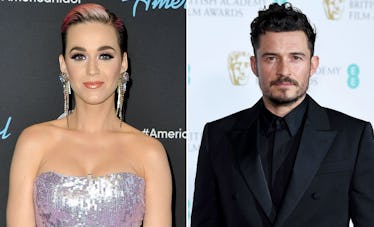 Katy Perry & Orlando Bloom Just Made Their Red Carpet Debut, So It's Official Official
Allen Berezovsky/Getty Images; Jeff Spicer/Getty Images
Katy Perry and Orlando Bloom have brought their relationship out of hiding. The pair, who reportedly first started dating in 2016 then took a break, reportedly got back together in May 2018 but have worked to keep their romance private. They've let up on that privacy just a bit to do their first red carpet appearance together, and the photos of Katy Perry and Orlando Bloom's red carpet debut are sweet as hell.
Perry and Bloom made their red carpet debut at the 2018 Gala for the Global Ocean on Wednesday, Sept. 26, in Monaco. They posed on the gala's red (well, grey) carpet with Prince Albert II of Monaco and Princess Charlene of Monaco, and according to Entertainment Tonight, the couple was all smiles and giggles while posing together. This is a big move in their relationship, as they've never arrived at an official event together. We've seen them at after-parties and various public events every once in a while (and of course, that infamous paddle boarding vacation...), but this is the first time they've publicly made it clear that they're together on a red carpet. What a time, my friends. What a time.
Look how in love and happy these two look together. I swoon.
Are you ready for the full shot? You ain't ready for the full shot.
Awwwwwww.
What should we call them? Korlando? Blerry? I'm feelin' Korlando.
Here's Katy Perry and Orlando Bloom with Prince Albert II of Monaco and Princess Charlene of Monaco.
Here's one more pic for good measure.
Perry and Bloom were seen at the Vatican together in April 2018. Yup, they literally met Pope Francis. She and Bloom were at the Vatican to take part in the annual Unite to Cure conference. She posted to her Instagram story the day of the conference saying, "Happy Saturday, everyone. I'm here in Rome at the Vatican about to speak on meditation." The video shows that her mother, Mary Hudson, and Bloom were in the car with her. She referred to Bloom as her "darling" in the video, according to People.
She posted a selfie of her and Bloom in the Colosseum after the event.
It looks like the pair was possibly back together as early as April 2018. A source told Entertainment Tonight that they kept their relationship private because the lack of privacy contributed to their first breakup. "They both agreed that one of the main reasons for their last split was the pressures of constantly being in the public eye and not taking the time alone to just be together," the source said in May 2018. "Katy wants to make sure they are seeing each other as much as possible despite both having busy careers," the source continued, "so she meets with Orlando wherever he is working and she expects the same from him. They have an understanding now of each other and what will make this work."
Perry posted a funny video of Bloom dancing to "Baby Got Back" while they got ready for the event in Monaco on Wednesday, Sept. 27.
She added a GIF that said "Lemme touch ur butt" to the video because what else are you going to include when "Baby Got Back" is on? Bloom's laugh in the video is the creepiest thing I've ever heard in my life, but the heart wants what it wants, I guess. Korlando, we welcome you.