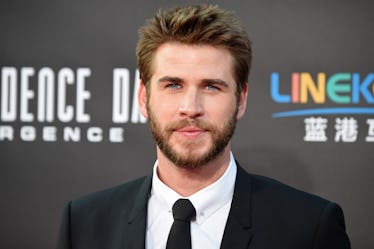 The Internet Is Going Wild Over This Hot Tennis Player That Looks Like Liam Hemsworth
Frazer Harrison/Getty Images Entertainment/Getty Images
One of my favorite games to play is What Celebrity Looks Like Another Celebrity. (It's OK you guys, I already know I have no social life.) For instance, you can't tell me that you've never confused Zooey Deschanel and Katy Perry. And I will not believe you if say you've never mixed up Margot Robbie and Jaime Pressly. It's just not possible, you guys! And now, the powers that be have given me a new pair of celebrity dopplegängers, and I am living for it. The first celeb is one you're well aware of by now, and he goes by the name of Liam Hemsworth. It's around this time in my post that you should be getting pretty excited, because there's another dude who looks JUST like him (as in, just as sexy AF) — and he happens to be a pretty prominent tennis player in the U.S. Open. Yep, these photos of Karen Khachanov prove that there might actually be another Hemsworth brother floating around in the world.
In case you don't follow tennis, there was a pretty big match between Rafael Nadal and 22-year-old Russian player Karen Khachanov just a few days ago. But here's the thing: if you were watching the match go on and couldn't figure out why Khachanov looked so damn familiar, it's because HE LITERALLY LOOKS LIKE LIAM HEMSWORTH. Yes, we're talking about Miley's main squeeze, Hunger Games hottie, Liam Hemsworth.
You know the one, but if your memory just so happens to slip, let me give you a refresh:
Another angle:
Mmhmm.
So now, are you prepared to see his lookalike, Karen Khachanov? Because you're going to be surprised AF to see how these two look pretty much identical.
OK, you guys. Check this man out:
Um, I'm sorry, but you're telling me that that is NOT a Hemsworth?!:
Is the universe pulling my leg? Because the resemblance is uncanny, y'all:
I've gotta show you one more for good measure:
And now that Khachanov is fresh in your mind, let's take a glimpse at Hemsworth one last time:
OK, THESE TWO ARE ABSOLUTELY TWINS, THE END.
The resemblance is not lost on Khachanov, either. After Buzzfeed noticed that the tennis player was identical to Liam Hemsworth, Khachanov agreed that there's a pretty good possibility that he's got genetics linking him to Thor.
"Yeah I am the 4th brother," he wrote on Twitter on Sept. 5, and is there anyone who can honestly disagree or question this statement?
The answer, obviously, is no.
So, you guys, are you on board with the fact that there might be another Hemsworth? Here's Chris, Luke, and Liam, looking like the most handsome siblings on the face of the earth:
And, CLEARLY, their long-lost brother, Karen Khachanov:
Get outta here with this sorcery!
So look, the next time you're out at a bar, or grabbing dinner with a friend, or picking up a good read at a bookstore and you see someone who sort of resembles a Hemsworth brother, do yourself a favor and just go for it.
Best case scenario, you score yourself an encounter with Chris, Luke, or Liam. Worst case scenario, you find yourself chatting with a Khachanov. A win-win, if you ask me.