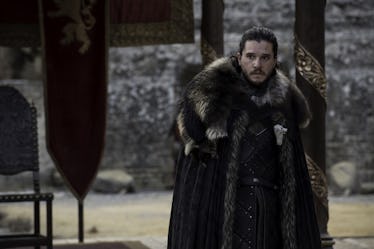 New Photos From The 'Game Of Thrones' Set Hint At Big Things For These 2 Characters
HBO
This really is the end of the road for Game of Thrones filming. Those of us who have been obsessed with the process of "How Your GoT Sausage Gets Made" have been writing about filming in Dubrovnik for outdoor King's Landing scenes ever since 2011 when production for Season 2 got underway. Now, the production is in Croatia's Old City for the last time ever, filming for Season 8. And as has been true for seven years, *nothing* that gets filmed outdoors in Dubrovnik gets kept secret. So, what Game Of Thrones Season 8 spoilers have leaked out for our final six episodes?
Why can't HBO keep stuff that's filming in Dubrovnik under wraps? Because the things that made the Old City so attractive as a stand-in for the production also work against them. The City Walls are high and have several towers, which fill in for spaces like the Tower of the Hand, The Red Keep and other points of interest in King's Landing. But that also means there's a large, high wall that runs a good length of the city, where photographers can perch and get long lens shots of just about everything, no matter how many precautions HBO takes.
Much of King's Landing's outdoor shooting moved to Spain after Season 5, when the show couldn't even keep images of Cersei's Walk of Shame from getting out. But there are some places in Croatia that simply can't be reproduced elsewhere, so even though the bulk of Season 6 and 7 were filmed in Spain, they always come back here at least once a season.
What brought them back this time? Warning: Spoilers for Game of Thrones Season 8 follow, so turn back while you still can.
So, the first sign of filming was that the Lannister flag was spotted flying above the Bokar Fortress. This indicates that whatever spoilers might suggest will happen during the season, Cersei is currently still running the show down south.
Not long after, the windows of the fortress we uncovered for cast members to use, and photographers got their first images of Cersei Lannister in Season 8. You're going to wanna click through the link for this, because she's got a brand new outfit, and her hair has gone from last season's cute pixie cut to a full-on Beatles mop top. In fact, it's so moppy, it's starting to look a bit like David Bowie's hairdo from Labyrinth. Her epaulets have also doubled in siz,e as if losing Jaime has made her feel the need for more armor. Also, note her bodice is looking kind of scaly, as if she might be taking fashion cues from a certain Dragon Queen.
As for her baby bump, the shot is only from the waist up, so it's hard to tell how far along she is... if she is at all.
But Cersei hanging out in King's Landing isn't news. It's where we left her. It's who she's filming the scene with that got everyone's attention. It looks like Cersei is having a one-on-one meeting with Jon Snow. (Or should we call him Aegon Targaryen?) There are several shots that show Kit Harington through the window, including a couple where the two characters are seen together.
Also, there are several directors in the shots, with not only David Nutter (who is directing episodes 1, 2 and 4) but also Benioff and Weiss (who are filming the finale.)
So, what are they filming currently? What incredibly dumb, overly honest thing is Jon Snow telling the wiliest player in the great game? What is it like when these two face off one-on-one? (Fun fact: Kit Harington and Lena Headey have never done a one on one scene before this.) Is he telling her he's the real heir to the throne, not Dany? How hard is Cersei going to laugh when she learns the truth about Rhaegar's marriages and that Ned Stark really could keep his mouth shut when it counted?
Game of Thrones will return to HBO for the final season sometime in 2019.