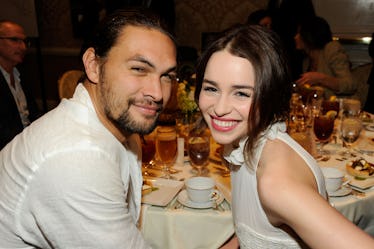 These Photos Of Jason Momoa & Emilia Clarke Prove They're Really Each Other's Sun & Stars
Frazer Harrison/Getty Images Entertainment/Getty Images
Jason Momoa and Emilia Clarke embarked on an epic (albeit rocky) Season 1 romance in the beloved HBO hit, Game of Thrones. And although the pair has since moved on, him to new projects and her to new love interests, the GOT stars' real life friendship is still very much alive. Unlike *spoiler alert* Khal Drago himself. Despite keeping things totally platonic (Momoa wed Lisa Bonet in 2017, after 12 years and two kids together), Momoa and Clarke's connection is evident. And a quick sweep through their Instagrams reveals as much - it looks like they really are one another's sun and stars. With rumors of a Season 8 Drogo return spreading like greyscale, it's only natural to hope (and pray, and manifest) an on-screen Momoa/Clarke reunion will come. Along with a flurry of photos from what appeared to be a Game of Thrones wrap party, Momoa posted a shot alongside Kit Harrington, captioning it, "I'm so grateful to be a part of the greatest show on earth. I'm [honored] to be able to come to Ireland and celebrate with my friends..." Whether it's Momoa's way of hinting at Khal's future or just a show of support for his longtime pals (wouldn't be his first), these photos of Jason Momoa and Emilia Clarke prove their IRL relationship is worth celebrating nonetheless.
The Khaleesi to his Khal. While in Ireland along with his former (and current?) castmates, Momoa uploaded a sweet Boomerang with on-screen other half, Clarke. Calling her the "moon of his life," fans freaked in the comments. Clearly, there are more than a few GOT enthusiasts clamoring for Momoa's homecoming.
Meanwhile, Clarke took to the 'gram for her own shoutout. Showing off his serious strength, the Hawaiian-born hottie attempted a Dirty Dancing-esque lift with his leading lady. A move, which according to Clarke, required a little liquid courage. Along with some necessary fire and heart emojis, she hashtagged "my sun and stars in their eyes."
I'm pretty sure every girl out there would just about die for a happy hour with Jason Momoa, and honestly, Clarke is no different. A couple grins (and gins!) later, the Khaleesi actress was raving about her "main man," appropriately hashtagging the sweet pic, "#lookoutjonsnowdrogosgotyournumber, #happinessishere, #hawaiianhakahunkoffunshutsdownlondon."
While on the Ed Norton Show in 2015, Clarke did admit Momoa humor grows richer with each drink.
He's a funny man. He doesn't look like it, but he can be very funny. Little bit of whiskey and he's very funny.
It looks like he's keeping more than one co-star around. Professing his love for both Clarke and Justice League castmate Gal Gadot, Momoa wrote, "And then this happened I'm so honored to know these two amazing women queens goddesses." Seriously though, how is this man real?
In a series of hilarious snaps, fans caught a peek into the on-screen couple's IRL affection. "[Too] f*cking cute," he captioned one shot, and the other read, "My khalessi @emilia_clarke When she smiles at you......."
In his March 2018 interview with Men's Health, Momoa opened up about their bond:
Emilia is like my sister. She'd come over and my son would have a figurine of her and a dragon. He loves dragons. He's also obsessed with swords. Which is perfect if dad works on Game of Thrones.
Sounds like she's a regular part of the fam. Auntie Emilia?
Following his 2012 exit from the series, Momoa's love for Khaleesi didn't die off with his character. In fact, he's continued to support the cast. Without mentioning his own role in the final season, he applauded the series' upcoming episodes. Speaking to Men's Journal, he dished:
Just knowing how amazing this season is going to be, it's going to be the greatest thing that's ever aired on TV. It's going to be unbelievable. It's going to f— up a lot of people. And it was a bummer because I'm a huge fan and I didn't want to know what's going on. I was like, 'Damn, I didn't want to know that!'
Shooting down rumors of his return, he told the publication, "You just want to see your friends and you end up making headlines going, 'Drogo's back!' and I'm like, 'He's dead! He can't come back, it wouldn't work.'"
Whether he's playing it cool or isn't making his triumphant return after all (ugh), at least we have Drago and Dany's IRL meet-ups to keep us content. But seriously, what could be better than Emilia Clarke and Jason Momoa sharing a screen once again?