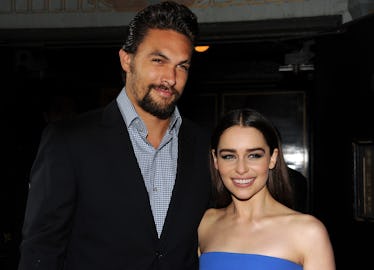 Jason Momoa & Emilia Clarke's Quotes About Each Other Prove Their 'GOT' Chemistry Is Real
Kevin Winter/Getty Images Entertainment/Getty Images
Jason Momoa may be married to someone that's not Emilia Clarke IRL *sigh*, but that doesn't mean their crazy hot Game of Thrones chemistry is all fiction. Despite Momoa's (spoiler alert) short-lived stint on the hit HBO series, Daenerys Targaryen and Khal Drago's on-screen romance has remained a memorable one among GOT fans, and it bonded the stars off-set. While Clarke will never be the true moon of Momoa's life (that role's reserved for his wife, Lisa Bonet) and Clarke's had a few "sun and stars" of her own, there's still major love between the pair. Jason Momoa and Emilia Clarke's quotes about each other totally prove their friendship connection is just as sweet as their scripted love story.
Although the start of Khaleesi and Khal's relationship was all kinds of rocky (reminder: she was sold to him!!!), Clarke's character softened and the pair fell hard. In an interview with Rolling Stone in June 2017, Clarke opened up about her less-controversial introduction to her co-star, saying:
I walked in and from the other side of this enormous lobby I hear 'WIFEY!' And this huge Hawaiian man comes bounding over to me, picks me up, and genuinely gets me in a rugby tackle to the floor. It was only when he picked me back up and kind of dusted me off that I was like, 'Who are you?'
Nearly eight years since their endearing first encounter and six seasons since his untimely departure, Momoa and his Game of Thrones "wifey" still can't stop talking about one another. Looks like the real life pals' fake marriage survived the dreaded 7-year itch.
Gone but certainly not forgotten, Momoa met up with his former castmates in the place where it all started — Belfast, Ireland. On June 3, the former on-screen spouses took to Instagram to highlight the reunion. Clarke included a sweet shot of the pair attempting a Dirty Dancing-like lift, which she credited her cocktails for the courage to attempt, while Momoa's boomerang came with the cutest GOT reference.
It wasn't the first (or last) time the duo has reunited and shared it on social media. Back in November, their happy hour selfies landed on the 'gram. Clarke gushed over the Hawaiian hunk, captioning the smiley shot, "When life is so good that your sun and stars is in your city..." Allllll the feels.
Speaking to Game of Thrones fan site in 2012, Winter is Coming, Clarke opened up about her "tigger," a nickname Momoa's earned from his unending enthusiasm. "He has more energy than I do after 3 bags of Pick 'N' Mix, and he is a good foot taller than me and can also bench press me with one hand," she told the outlet. "But he is also very talented, and very kind. He is a complete gentleman and has the most beautiful family on the planet who I am very lucky to know. You can't get much better than Momoa ... It was brilliant to have him as my on-screen [hubby]!"
For Momoa, that beautiful family includes Clarke. In an interview with Men's Health, the former Dothraki warlord called Clarke his little sis, before adding:
She'd come over and my son would have a figurine of her and a dragon. He loves dragons. He's also obsessed with swords. Which is perfect if dad works on Game of Thrones.
Momoa continued his compliment tour on the Graham Norton show in November 2017, fresh off their Belfast reunion and photo session. After Norton mentioned "fans going crazy" over the GOT stars, Momoa had a quick retort: "I go crazy when I see her." AWWW.
There's no denying Emilia Clarke and Jason Momoa have major chemistry, both on and off our TV screens. But with rumors swirling of a Khal Drago return in the eighth and final season (fingers crossed), fans are abuzz with hope for these Game of Thrones besties. Either way, I hardly doubt our IG feeds will dry up of Momoa/Clarke cuteness. Keep the selfies coming, guys.