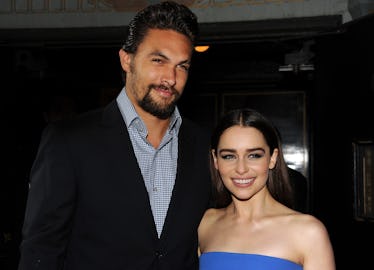 Don't Let Emilia Clarke & Jason Momoa's Chemistry Fool You, He's Married To This TV Icon
Kevin Winter/Getty Images Entertainment/Getty Images
Khal Drogo may have died seven years ago in Game of Thrones Season 1 (spoiler alert?), but judging from some recent posts on social media, the love between him and Daenerys Targaryen is still very much alive. On June 4, GOT star Emilia Clarke posted an epic shot of her and her former TV husband on Instagram, and now I just want to know, are Emilia Clarke and Jason Momoa dating IRL? Because that reunion pic is EVERYTHING and I totally need to find out if these two are a thing and if this is actually happening.
OK, so here's what we know: In the image posted by Clarke — which was taken during the Season 8 wrap party — Momoa is holding her body up horizontally in front of the Iron Throne. And then, because that apparently wasn't iconic enough, Clarke went and pretty much compared Momoa to Patrick Swayze, and herself to Jennifer Grey, in the caption.
"FYI … This is the closest you'll ever get to me attempting 'that lift' from dirty dancing," she wrote. "Yes, my man is sitting. Yes, there's no lake. And yes, I have no idea I'm NOT being raised above his head. (Id like to take a moment to thank alcohol for giving me courage to attempt this. Ever.) #nooneputsdrogointhecorner, #imhavingthetimeofmylife, #fyi, #thankgodwegotthatmanonathrone, #mysunandstarsintheireyes."
How amazing is this? Like, I'm crying because it's actually so dope. Though, I'm pretty sure Clarke would have to be flipped the other way if she *really* wanted to emulate "that lift". But everything else here is just perfection — from the beer off in the corner, to Momoa's leather pants paired with Ugg slippers — that I'm willing to let it slide. And did Clarke just call him HER MAN?! She totally did! So are they dating or not, because I am I shipping this HARD.
Momoa also shared his own shot from the Season 8 wrap party, and his caption is even gushier than Clarke's:
"Moon of my life @emilia_clarke," he wrote. "Every time I leave you my face hurts from smiling to [sic] much. I F*cking love you forever. Aloha j."
It certainly seems like these two are together, or at least meant to be, right? But unfortunately, it turns out Momoa is already married to someone else. There IS a silver lining, though. And trust me, it's a good one. Because the person Momoa is married to is Lisa Bonet. Y'know, the star of classic sitcom hits like The Cosby Show and A Different World? She's a bonafide TV legend, so the fact that Mamoa is married to her is all kinds of epic, too!
Seriously, I have always loved Lisa Bonet so I am so here for this pairing! The couple met in 2005 and had two kids — daughter Lola and son Nakoa-Wolf — before eventually secretly tying the knot in October 2017. Momoa posted the following slideshow to Instagram shortly after:
"Forever goofballs forever young forever in love My best friend," he wrote. "Partner in crime what an epic night aloha da momoaz."
So freaking sweet! And Momoa seems like a family guy, too. His Instagram feed is filled with pics of his two kiddos, and he legit seems like the most fun father ever.
I mean, how cute is this fam? Momoa is also stepdad to Zoë Kravitz, who Bonet had during her first marriage to rocker Lenny Kravitz. He even posted a picture of himself on Instagram recently where he's holding up an issue of Elle that features the Big Little Lies star on the cover:
"Congrats @zoeisabellakravitz You are one of the greatest humans I've ever met I'm so proud of you. See u soon. Love papa bear."
So much love!
Game of Thrones returns to HBO for its eighth and final season in 2019, and fans are convinced Momoa will be making a surprise return to the series. Will we finally get the Drogo and Dany reunion we've all yearned for since 2011? Guess we'll have to wait another year to find out!