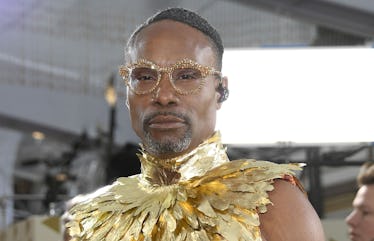 These Photos Of Billy Porter Prepping For The Oscars Red Carpet Are So Wholesome
Kevork Djansezian/Getty Images Entertainment/Getty Images
As a nation, America is blessed to have Billy Porter as the current reigning Grande Dame of the Red Carpet. Everyone, from entertainment magazines to fashion pros, waits with bated breath at every event to see what Porter will wear next. From tuxedo ballgowns (suitable for both A-list events and Sesame Street) to motorized hats, Porter never disappoints. And these photos of Billy Porter prepping for the 2020 Oscars prove this year is no different.
Porter is also not a star who sticks to one designer. His 2019 Golden Globes cape, where he first made clear his style would be unlike any other, was created by Randi Rahm. His Oscars tuxedo ballgown from 2019 was created by Project Runway alumni Christian Siriano, and his showstopper, Ancient Egypt-inspired bodysuit from the 2019 Met Gala was the brainchild of The Blonds. Celestino Couture designed that gender-fluid evening suit from the 2019 Tonys, and as recently as the 2020 Grammys, he was sporting a blue Baja East bodysuit. In short, Porter seems to be open to working with any designer, just as long as they're willing to get creative with him.
For the 2020 Oscars, Porter went with a custom look by U.K. designer Giles Deacon from the Giles Deacon Couture line. He looked fabulous, but make no mistake: Actually getting into the outfit took some serious work.
Here's a close up of the gold bodice.
And here are all the accessories, including the winged purse, bejeweled glasses frames, and, of course, those shoes.
Here's a photo of him before heading out:
What, did you think he would be walking to the red carpet in those platforms? Please. That's why man created golf carts.
As the host of ABC's red carpet coverage this evening, Porter has to be mic'd up as well.
And the Oscar for Best Dressed goes to...
Porter isn't nominated for anything at the 2020 Oscars (give him time, friends), but he is one of four hosts this evening, along with talk show host Tamron Hall, supermodel Lily Aldridge, and film critic Elvis Mitchell. The four of them will be covering all the red carpet glamour on ABC ahead of Hollywood's biggest night.