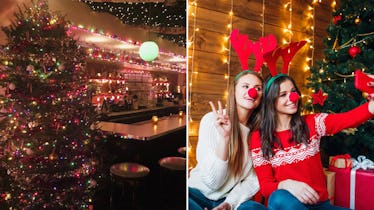 Donner & Blitzen's Reindeer Lounge Has Fried S'mores & Ugly Xmas Sweater Parties On The Daily
What do you have planned for the holidays? Once Christmas rolls around, it seems like there are so many things to do, and so little time. You have holiday parties and cookie swaps to attend, presents to buy, and hometown friends to catch up with. You're feeling all holly jolly in the festive spirit, but Christmastime can also be a bit hectic. Sometimes you just want to unwind and take it all in, because this time of year is really special and goes by incredibly fast. Make the most of it and check out these NYC holiday pop-up bars for 2018 that'll surely add some sparkle to your Instagram.
There's no denying that New York City is the ultimate place to celebrate Christmas. The Big Apple has everything a true Christmas lover could ever want, including ice skating rinks, the grand Christmas tree in Rockefeller Center, holiday markets, and so much more. You can even drop into a pop-up bar (if you're 21 or over) once you're officially on Christmas break to celebrate a long semester, or just after work to relax and brighten the mood. Add any of these festive bars to your bucket list this season, and cheers to a very Merry Christmas.