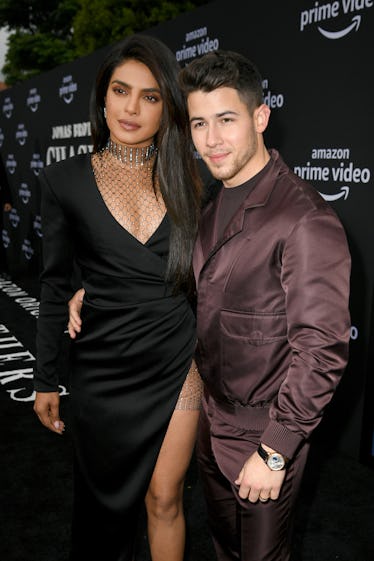 These Nick & Priyanka Costume Ideas Will Make You Look In Love On Halloween
Kevin Winter/Getty Images Entertainment/Getty Images
There's no question that Nick Jonas and Priyanka Chopra are one of 2019's power couples. The two stars enjoyed a whirlwind romance that turned into one of the most highly-publicized Hollywood weddings. But romance goals aside, Jonas and Chopra have inspired couples everywhere with their incredible style. And that makes them the perfect examples to follow this Halloween. So, down below you'll find a list of Nick Jonas and Priyanka Chopra costume ideas to consider for this Halloween.
Given how many incredible looks Jonas and Chopra have sported throughout their relationship, I've narrowed down a few for you to check out. This list is comprised of the couple's most notable looks, including their incredible 2017 Met Gala style.
1. Met Gala Chic Jonas & Chopra
During 2017 Met Gala, Jonas and Chopra served up one of the most iconic looks ever (and they weren't even dating yet!). With Chopra in a trench coat dress with an extended train and Jonas sporting a tuxedo jacket with a super cool pattern, they definitely made it a red carpet event to remember. Not only that, but it was the very first taste we got of what would become their future romance.
So, here's the look you're going for:
For the guys out there looking to match Jonas' Met Gala look, you can try a snazzy suit jacket and some slacks. Like this one:
The Chopra wannabes can opt for a trench coat. It's not exactly a dress, but you can make it work. Add some combat heel boots into the mix and you're good to go! Here's a trench coat to consider:
And here are some sick high-heel combat boots!
2. All Glam Jonas & Chopra
Chopra and Jonas turned heads at Ralph Lauren's 50th-anniversary celebration in early September 2018, at which point, they were officially dating. Jonas continued his trend of eye-catching tuxedo looks with a white jacket and black pants. Chopra opted for a shimmery long-sleeved dress.
Here's the look they sported at the event:
To replicate Jonas' look, try this jacket on Amazon.
For Chopra's look, this'll probably do it:
3. Date Night Jonas & Chopra
On Aug. 29, 2019, the officially-married couple celebrated Nick Jonas' tequila collaboration with John Varvatos. The two stars looked very chic. You and your bae can do the same this holiday.
For Chopra, you'll need a mini blazer dress in white.
To pull off Jonas' look, you'll need another snazzy blazer.
4. Chasing Happiness Jonas & Chopra
This picture lives in my mind, y'all, because it is everything. There's just so much love and passion and fashion. You and your partner are going to turn heads anywhere you go when you show up as Jonas and Chopra from the Chasing Happiness premiere in June 2019.
To get Chopra's look, you'll need a black dress with a thigh-high split.
Create the illusion of similar neck detailing with this choker from Zara.
Also, snag this jeweled net fabric and then hot glue it to the inside of the dress for some peek-a-boo action like Chopra.
For Nick, all you'll need is a shiny, brown tracksuit.
And there you have it! Four awesome looks that'll definitely put you in the running for Best Couples Costume at your local Halloween party.
This article was originally published on