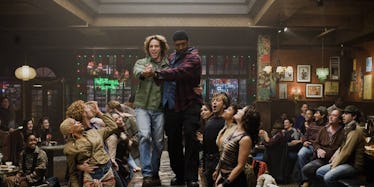 These New Year's Eve Movies On Netflix Will Help You Ring In 2019 From Your Couch
Columbia Pictures
The champagne is popping and the countdown is starting, but on New Year's Eve, you might be snuggled up on your couch watching a move to ring in 2019. There's no shame in taking a quieter approach to the celebration this year, but if you still want to commemorate the day with a seasonal film, these New Year's Eve movies on Netflix will help you say goodbye to 2018 in the best way possible. Don't forget to toast the credits with a verse of "Auld Lang Syne"!
While the very appropriate "New Year's Eve" isn't streaming on Netflix right now, there are plenty of flicks available that are a little more subtle with their holiday themes. Whether the characters be blowing horns at midnight or just trying to change their lives for the better, the picks below will leave you with the uplifting feeling everyone should experience at the start of a new year. Who said you had to party to cheer on 2019 the right way? Watching actors make life-altering decisions onscreen is just as satisfying.
Depending on the kind of year you've had, Netflix definitely has your back in creating a fitting mood for Dec. 31. Grab the popcorn and a noisemaker and get cozy!