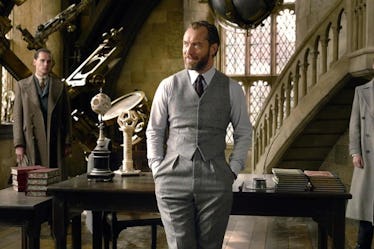 Jude Law Reveals New Information About Young Dumbledore & It's Completely Enchanting
Warner Bros.
It might as well be law that you aren't a successful British actor unless you appeared in the Harry Potter franchise at one point or another. Jude Law earned his metaphorical wings as a "proper" actor when he was cast as a young-ish Albus Dumbledore in the upcoming Fantastic Beasts: The Crimes of Grindelwald. With only four months to go until the film's November release, Law spilled on what his role entails, and these new Fantastic Beasts: The Crimes of Grindelwald details from Jude Law have me enchanted.
In a new interview with Entertainment Weekly, Law is basically the typically taciturn, vague British star who can only say so little about the latest Potter-associated movie. As the Crimes of Grindelwald trailer revealed, Dumbledore, a Hogwarts professor at this point of the Wizarding World timeline, enlists Newt Scamander to track down Gellert Grindelwald and defeat him. Hardcore Potterheads know that Dumbledore and Grindelwald had a relationship with each other as teenagers, but it's unclear how far Crimes of Grindelwald will delve into the two's backstory. After all, there are three more movies after this one in the Fantastic Beasts franchise, and Warner Bros. can't exactly spill all the dirt right away.
While we know Dumbledore best as a wizened and wise old man, Law's Dumbledore is just as mysterious but perhaps less confident than his later self. Law told EW:
...[Young Dumbledore has] a sense of humor and mischief, a dash of anarchy, a sense of what's right and what he believes in, and a sense of mystery. There's also how he comes around to get people onto his way of thinking — which is rather indirectly. He also has a certain heaviness about him that I don't want to reveal too much about — and that's something he has to overcome, or hopes to overcome. He's also got a great passion for sharing his knowledge, he's a powerful and inclusive teacher.
Although J.K. Rowling's Potter universe confirmed long ago that Dumbledore taught Transfiguration at Hogwarts, Law revealed that the character actually isn't transforming mice into teacups with first years at the time of Crimes of Grindelwald. He said no more on the subject, but thanks to the background of the first look photo of a young Newt with Dumbledore, fans are suggesting that Dumbledore was actually Newt's Defense Against the Dark Arts professor. Well, fingers crossed that screenwriters and Rowling haven't changed or added too much information about huge characters.
Law also spoke about Dumbledore's relationship with Newt and the role that Dumbledore's sexuality may play in Crimes of Grindelwald and future films, saying:
I think he admires in Newt this sense of moral code that he will always do the right thing because he can't do anything but the right thing. I think he likes that Newt finds beauty in beasts because I think occasionally Dumbledore feels like a beast. And there's a master and mentee kind of relationship. And Newt isn't afraid to say when he thinks Dumbledore is wrong, it's not servitude... I suppose the question is: How is Dumbledore's sexuality depicted in this film? What you got to remember this is only the second Fantastic Beasts film in a series and what's brilliant about Jo [Rowling]'s writing is how she reveals her characters, peels them to the heart over time. You're just getting to know Albus in this film, and there's obviously a lot more to come.
"Dumbledore feels like a beast"? This definitely isn't our childhood's version of Albus Dumbledore.
As for the likelihood that Dumbledore crosses path with Grindelwald in the new film, Law crushed any fans' hopes about seeing Dumbledore reunite with Johnny Depp's Grindelwald, confirming that the two had no Crimes of Grindelwald scenes together and that he didn't even meet Depp while working on the film. Oh, well, we'll have to wait for another movie for the truth about this mysterious love story. Still, I have a feeling that Law's Dumbledore is bound to keep us as captivated as the role's predecessors did.
Fantastic Beasts: The Crimes of Grindelwald is in theaters on Nov. 16, 2018.