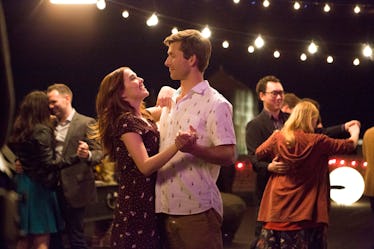 These Netflix Rom-Coms Are Perfect For Your Lazy Summer Movie Nights
KC Baily
It's looking like 2018 is shaping up to serve the so-called "summer of love," and not just because June 20 is apparently National Ice Cream Soda Day and, man, do I love me an ice cream soda. Netflix is here to make the hot months that much hotter with their delightful slate of romantic comedies. The streaming service is all about bringing love to the small screen these days — and their lineup of original films proves it. If you're looking for a solid date night or just you-and-an-ice-cream-soda night, there are a handful of Netflix rom-coms that will do the lovey-dovey trick.
Netflix already released a bunch of romantic flicks over the past year, including the festive holiday tale, A Christmas Prince. Even though it's nearly July, it's probably time to revisit that modern classic following May's royal wedding extravaganza. Need more? Here are a few Netflix rom-coms currently streaming and one anticipated title expected to debut later this summer.
1. Set It Up
June 15 marked the debut of the workplace comedy Set It Up, where two overburdened assistants hatch a plan to set up their bosses. Zoey Deutch is the right balance of charming and relateable and Glenn Powell will completely win you over. Even the supporting characters (hey, Pete Davidson and Tituss Burgess!) are amusing.
2. The Kissing Booth
Falling in love in high school can be an exciting rollercoaster ride. Falling in love with your best friend's brother is... extra complicated.
3. Ibiza
If you're longing for a wild summer vacation that involves a hot international DJ, this work-turned-ultimate-girl's-trip is exactly what you need. Just watch out for the flying bird poop.
4. Alex Strangelove
A coming-of-age comedy about a high-schooler coming to terms with his sexuality. Director Craig Johnson explained the film's tone to The Huffington Post, saying,
I think we're the rowdy older brother to Love, Simon. We share some DNA for sure. We're a little more sex, drugs and rock 'n' roll. We're houses on the same block, but there's room for multiple houses.
5. Ali's Wedding
In this Australian comedy (which is based on a true story), an Iraqi-born cleric is torn between his family and his heart after telling a lie that spirals out of control.
6. Irreplaceable You
Black Mirror alum Gugu Mbatha-Raw stars as Abbie in this tearjerker that follows childhood-best-friends-turned-fiances who are forced to deal with the devestation of cancer. What's a patient with a terminal diagnosis to do? Find her long-time love a new match.
7. Catching Feelings
This South African romantic dramedy focuses what happens when a celebrated author comes to stay in the home of a writer and his wife.
8. The Week Of
Adam Sandler is no stranger to the wacky rom-com. The profilic writer and actor teams up with Chris Rock for this one, as they play a pair of father-in-laws with clashing personalities prepping for the wedding of their kids. There's chaos, absurd family fights (the house is stuffed with guests!), and jokes about oversized bottles of booze — what else would you expect?
"It's basically the week of the event and people, the ins and outs and the fighting and the fun and the love and that kind of stuff throughout the week," Sandler explained on GMA of the concept, which took from his own experience growing up.
9. Like Father (Arriving on Netflix August 3)
Netflix recently released the trailer for this Kristen Bell film about a woman who connects with her father (Kelsey Grammer) on a Caribbean cruise after being left at the altar. Seth Rogen comes along for the ride — his real-life wife Lauren Miller is also movie's director.