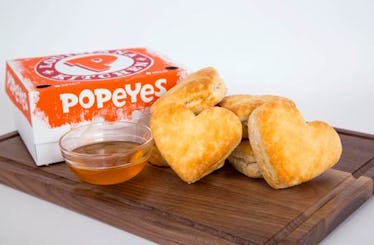 Here's Where To Score Savings On Your Fave Side For National Biscuit Day
Courtesy of Popeyes
In my opinion, few things can contend with the simple but undeniably mouthwatering combination of carbs and butter, which is why National Biscuit Day tends to place pretty high on my list of national food holidays. Luckily, the celebration is coming up on Tuesday, May 14, and you'll want to check out these National Buttermilk Biscuit Day 2019 deals from all your favorite restaurants if you're looking to ring in the tasty occasion on the cheap. Whether you're looking to update your biscuit fix with a limited-edition heart-shaped creation, or you're all about getting as many free biscuits as possible, you'll find a deal to satisfy your tastebuds on May 14.
A few places definitely come to mind when I think of the buttery pastries, and you'll be happy to hear that some of your favorite spots are rolling out some delicious deals in honor of the holiday. Fast food chain Popeyes is making their flaky offerings even more crave-worthy by debuting heart-shaped "Love That" biscuits for one day only. Honestly, I didn't think the retailer's biscuits could get any more mouthwatering, but this adorable makeover might just take the cake. Meanwhile, Red Lobster is making it easier for you to keep their customer-favorite Cheddar Bay Biscuits closer to your heart (and your mouth) with an insulated Cheddar Bay Biscuit Fanny Pack.
Keep scrolling to learn more about how to get in on these deals and tasty promos that'll make it so easy to celebrate your love of biscuits.