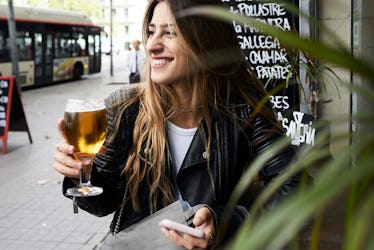 You Can Score A Beer For As Little As $2 With These National Beer Day Deals
If you stopped paying attention to daily "holidays" after National Tweed Day on April 3 (yes, it's a real thing), I totally get it. It seems like there's something new to celebrate every day, and TBH, who has the time to keep up? Well, I'm here to tell you to make time, because National Beer Day is coming up so, so soon — and you don't want to miss out. To help you celebrate, you can check out these National Beer Day 2109 deals on April 7.
Whether you've never heard of National Beer Day or if you celebrate it every year, there is sure to be a deal you'll love. Again, the big day this year lands on Sunday, April 7, so clear your calendar and get ready to enjoy some discounted brews. In honor of the holiday, restaurants are going all out to offer deals on the hoppy sips you love (if you're 21 years or older). Plus, National Beer Day just so happens to come along right as the weather is getting warmer, and there is almost nothing better than enjoying an ice cold brewski during #patioszn. Let's hope the sun is shining on Sunday, because that will make the following deals just that much better.