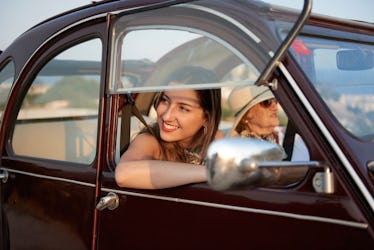 These Mother-Daughter Road Trip Ideas Are Perfect & My Bags Are Already Packed
Jose Coello / Stocksy
Listen up everyone, Mother's Day is right around the corner and it's time to impress. No one deserves a special day more than a mom, but instead of flowers and cards, this year I say we hit the road. If you're with me, here's a list of mother and daughter road trip ideas that'll create memories to last a lifetime.
There's no better way for some mother-daughter bonding than to take a nice trip somewhere. Just picture yourselves as Thelma and Louise hitting the road and planning to take on the world. OK, yes, their journey might not have had the happiest ending, but that doesn't mean you two can't write your own story. Not only is it an excuse to take a much needed trip, but according to Y Travel blog, taking a mother-daughter trip together helps both parties start to see one another as individuals instead of just "mother" and "child."
So the question is, where should this dynamic duo head off to?
From sandy beaches to bustling city streets, there's a myriad of places to vacation and enjoy some quality time together. Every mother-daughter team is different, and so it's important to choose carefully where to spend a very special Mother's Day to ensure both of you will fully enjoy your time. So get out that map ladies, and start charting your course.