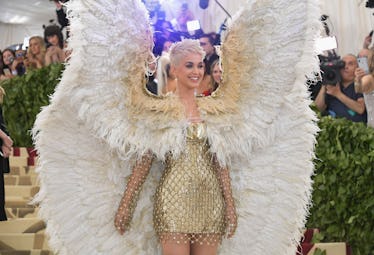 Katy Perry Wore Life-Size Wings To The Met Gala & The Memes About Her Look Are So Funny
Neilson Barnard/Getty Images Entertainment/Getty Images
The 2018 Met Gala is already one for the books. The event's religious theme inspired some of the best looks the world has seen since the benefit's inception — and one of the most dramatic entrances of the night came (of course) from Katy Perry. And now these memes about Katy Perry's 2018 Met Gala look are seriously too funny.
This year's theme for the evening (and subsequent exhibit that's opened as a part of the Gala) is called, "Heavenly Bodies: Fashion and the Catholic Imagination." The exhibit is meant to "examine fashion's ongoing engagement with the devotional practices and traditions of Catholicism," according to the museum's site. The official dress code of the night for celebrities and designers is to don "Sunday's Best" clothing, which can be interpreted wildly differently depending on your point of view.
So when it came time for Perry to decide what to wear for the event, she decided to go the costume, show-stopping route with her look. Perry arrived at the Met steps in a white vintage Rolls Royce, wearing a serious pair of massive angel wings. Can you say "extra"?
And the commotion that she caused — both on the red carpet and on social media — had Twitter users screaming over how over-the-top this look it.
Out of all the looks seen tonight, I think that Perry's tops the list of largest and boldest fashion choices. So it's no surprise that social media cracked all the jokes about her look. But all jokes aside, this is a serious avant-garde fashion moment for Perry that definitely won't be forgotten anytime soon.
Underneath the angel wings, Perry wore a simple gold and white minidress with gold chain embellishments cascading down her arms, gold thigh-high boots, and her signature platinum blonde pixie cut topping off the look. Her ensemble is a custom design made entirely by Versace, and the wings reportedly span a whopping six feet in length. Now that's what I call drama, honey.
How Perry plans on sitting down for dinner, I have absolutely no idea. But I hope that she has some sort of exit strategy for those wings so that she can enjoy the full itinerary for the night. If she takes one spin on the dance floor with those wings on, she's definitely guaranteed to take out a couple of people in her tracks.
Perry wasn't the only celebrity to take the religious theme to extremes this year. Unofficial Met Gala queen Rihanna wore an ensemble inspired by the Vatican's most important resident — Pope Francis himself. Sarah Jessica Parker also took the theme quite literally in her Dolce & Gabbana ensemble, featuring a headpiece with figures of the nativity scene inside.
Some other looks that turned heads came from Madonna, the queen of pop who often has used religious iconography in her music videos. She arrived wearing all-black gothic-inspired gown with black veil netting over her face, and a stunning ornate headpiece over her braided hairstyle. Madonna is also slated to perform at the affair tonight, where she'll surely belt out some of her most iconic hits, such as "Like A Prayer" and "Like A Virgin."
But I think that I can say with confidence that Perry has taken the cake with her interpretation of the night's theme. I don't know any other celebrity in attendance tonight who could have worn Perry's look and gotten away with it. This pop star is nothing of not an extra gal, and I'm thrilled to see that she's embraced her extra-ness tonight.