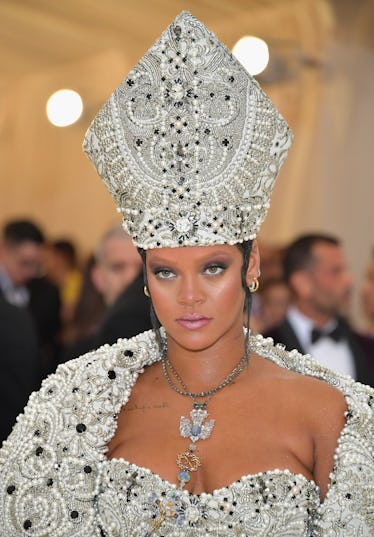 Rihanna's Met Gala Look Makes Her The Young Pope We Truly Deserve
Neilson Barnard/Getty Images Entertainment/Getty Images
If there's one woman who knows how to make a fashion statement that will reach every corner of the universe, it's Riri. Fearless, avant-garde, and unpredictable with her style, she is the queen of sartorial shock factor. Tonight, Rihanna's 2018 Met Gala look, which is thematically spot-on and sartorially just EVERYTHING, further cements her as the ultimate star of the annual extravaganza and wearable art world as a whole... but did we really expect anything less?
Year after year on the first Monday in May, Rihanna arrives to the Metropolitan Museum of Art clothed in a breathtaking masterpiece. Always theme-appropriate and never understated, she takes to the red carpet in a flurry of camera flashes. Having first attended the event in 2007, her looks have naturally gotten progressively more daring. Her first look for the occasion was a Georges Chakra gown with silver embellishments, mesh gloves, and a rose comme accessoire. Beautiful, but not the most outrageous. In 2009, however, she showed up in a Dolce & Gabbana suit with '80s-style puffed sleeves and a tie so yes, she's been pushing boundaries since early on.
Her 2015 look is perhaps her most daring. A gorgeous yellow behemoth of a creation designed by Guo Pei, you might remember it as the "pizza dress" for its giant circular train. The theme that year was "China Through The Looking Glass" and the garment certainly embodied it in the most stunning of ways.
Last year, Rihanna's dress was equally as memorable, though decidedly more abstract. The gala's theme was "Rei Kawakubo/Comme des Garcons: Art Of The In-Between," and no one honored it as well as Riri. She wore an actual Comme des Garçons creation that looked more like a modern sculpture than a garment, and paired it with a dusting of pink makeup all over her eyes and cheeks and glitzy flower earrings. She was the walking piece de resistance of the evening.
So you can imagine the suspense that's built up around what she'd be wearing tonight. "Heavenly Bodies: Fashion and the Catholic Imagination" is the theme of the evening, so it's an especially intriguing one in terms of how designers, stylists, and celebrities will choose to interpret it. Rihanna's take is a literal one, and it couldn't be any better.
Arriving in a look by couturier extraordinaire John Galliano, Riri arrived in a dress, jacket, and hat very clearly inspired by the Pope. On her head was a thoroughly bedazzled mitre that matched the rest of her equally ornate outfit. The jacket, which I can only imagine weighs about five million pounds, features an exaggerated collar, puffed sleeves, and ankle-grazing hemline. Adorned with intricate patterns of pearls, sequins, and other sparkly embellishments, it's a statement piece on its own. But in true Riri style, one statement piece just wasn't enough.
Along with the jacket, she also wore a matching minidress, over which a skirt, of sorts, buckles at the waist. The entire look is one of regality, luxury, and opulence, which certainly fits into the night's theme. It reminds me of a combination between traditional papal wear and the things you might've seen Catholic Renaissance-era Kings and Queens wear in official portraits. Rihanna is, in my eyes, a Queen herself, so it's fitting.
Her makeup look, too, is arresting, though undoubtedly more understated than the rest of what she's got going on. My bets are on it being crafted from Fenty products, though I can't confirm for certain. Smoky black lids and shimmery pink-ish lips constitute most of its drama and serve as the perfect finish to her over-the-top look as a whole. Riri, I'm bowing down.