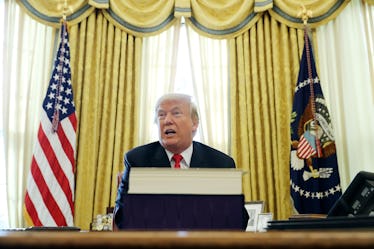 Donald Trump's Super Awkward Call With Mexico's President Is Now A Hilarious Meme
Chip Somodevilla/Getty Images News/Getty Images
When President Donald Trump recently sat down for a phone chat with Mexican President Enrique Pena Nieto, he experienced some technical difficulties — thus creating an extremely awkward encounter. Twitter users, of course, immediately reacted to the moment and gave it the good ol' meme treatment, which could not be more perfect. The memes about Donald Trump's call with Enrique Pena Nieto are seriously gold.
Trump dialed up Pena Nieto on Monday, Aug. 27 to announce a new trade deal between the United States and Mexico while on live television. According to CNBC, the deal could pave the way for the replacement of the North American Free Trade Agreement (NAFTA), so it's pretty serious stuff. However, the beginning of the phone call was nothing short of awkward, and Twitter users can't stop talking about it. Trump repeatedly called for Pena Nieto for about a minute, but didn't receive an answer. He then desperately tried to toy with buttons on the phone in attempts to finally gain a connection to the Mexican president — again, to no avail. Luckily, Trump and Pena Nieto finally connected, but Twitter users had already taken the awkward moment and transformed it into their own hilarious musings, and they'll crack you up.
Perhaps the most perfect meme came from one Twitter user who goes by the name Arlen Parsa. Parsa notoriously mashed the clip up with credits from HBO's hit comedy Veep, because boy, does it wonderfully complement Trump's mishap.
Parsa also added the theme song of Curb Your Enthusiasm to the clip...
...which people loved.
Some people speculated that the moment is probably, definitely going to be on an upcoming episode of Saturday Night Live!
Imagine how many times producers would make Alec Baldwin yell, "Enrique!"
One person said Trump actually dialed the wrong number.
You guys are undefeated. For a second, I didn't think anything could beat those space force memes.
If you missed it, in early August, Twitter users also poked fun at Trump's recent calls for a Space Force. The proposed plan would be a sixth branch of the United States military, which Trump apparently feels is necessary because he thinks America will eventually be fighting wars with other countries in outer space. He first made the call for the force back on March 13, during a visit to the Marine Corps Air Station Miramar in San Diego. In a speech to an audience of Marines, Trump explained:
Space is a war-fighting domain, just like the land, air, and sea. We may even have a Space Force, develop another one, Space Force... We have the Air Force, we'll have the Space Force.
Vice President Mike Pence followed up by sharing some of the details around the proposed plans during a speech on Aug. 9, and Twitter immediately hopped online to mock the idea with hilarious references and more.
One person added the theme song of the video game Halo to Pence's speech.
But the ideas about Space Force uniforms might've really been the wildest memes.
Clearly, there is no shortage of hilarity online — even when it comes to some of Trump's most serious efforts — and many of us can't get enough of it. Can't wait to see what comes next.