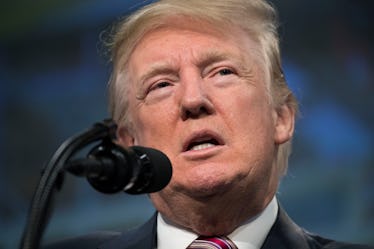 Twitter Is Trolling Donald Trump's Space Force In The Most Hilarious Ways
Pool/Getty Images News/Getty Images
It's 2018, so of course Twitter is taking yet another one of President Donald Trump's plans and transforming it into a hilarious trove of memes. This time, people are poking fun at the president's proposal to create a Space Force, and the memes about Donald Trump's Space Force are pure perfection. What a time to be alive.
Trump first made the call for a Space Force — a proposed sixth branch of the U.S. military — back on March 13, during a visit to the Marine Corps Air Station Miramar in San Diego. Trump told an audience of Marines in a speech that he believes U.S. forces will eventually be fighting wars with other countries in outer space (to much backlash). He explained:
Space is a war-fighting domain, just like the land, air, and sea. We may even have a Space Force, develop another one, Space Force... We have the Air Force, we'll have the Space Force.
The latest update on Trump's plans for the force came on Thursday, Aug. 9, when Vice President Mike Pence announced some of the details in a speech at the Pentagon. His speech only renewed concerns surrounding the proposed Space Force, with many Twitter users appropriating the idea and inserting their own musings through hilarious references and more.
One person added the theme song of the video game Halo to Pence's speech, and it's everything.
Others let their imaginations run wild with ideas about Space Force uniforms.
I could get into "Star Command" as a call sign, though, TBH...
Former Trump aide-turned critic Roger Stone shared a meme of himself, the president, and other members of his administration in Space Force suits with swastikas. SMH, yikes.
I mean, the memes got really wild.
There are others, however, who seriously aren't impressed by the plans at all and aired out their feelings online.
At least one person's mind was boggled by Trump's plans to create the Space Force, considering he's struggled to master some of the most basic facts about the world and how it works. Like, say, the time he stared up toward a solar eclipse (which experts have said is extremely dangerous), and recent reports that Trump doesn't understand time zones and keeps trying to call foreign leaders while they're asleep.
A couple Twitter users pointed out the need for the money behind the proposed force to go to more important issues, like Flint, Michigan's ongoing water crisis.
But no matter how you feel about the force, Trump seems pretty adamant about his plans. On Monday, Aug. 13, he argued that the planned branch is necessary to fight adversaries such as China, per The Hill.
"China even launched a new military division to oversee its war-fighting programs in space," Trump explained during a speech at Fort Drum, New York.
"Just like the air, the land, the sea, space has become a war-fighting domain. It is not enough to merely have an American presence in space, we must have American dominance in space," he continued, echoing the line he used during his announcement of the force back in March.
He might be moving forward with his plans, but he can bet that these memes aren't gonna stop rolling in any time soon, either.