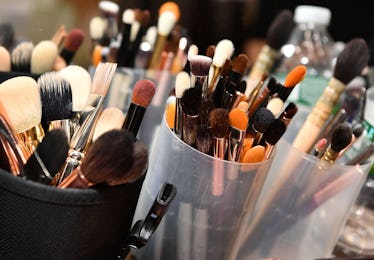 These Makeup & Skincare Coupon Codes Are Here To Brighten Up Your January
Slaven Vlasic/Getty Images Entertainment/Getty Images
The holidays have come and gone, and you might be experiencing empty wallet syndrome. Maybe you splurged on that cookware mom was eyeing, but never received the palette you put on every wish list. If you're still having the urge to splurge, makeup coupon codes from RetailMeNot will give you the most bang for your buck. So no need to feel bad about finally treating yourself to those shadows you've been lusting over. Your painfully low bank account will barely feel a thing.
According to RetailMeNot, January is the best time to "buy all things beauty" with an average savings of 44 percent off. Unsurprisingly, of course, independent beauty brands are offering higher discounts during this month to encourage shoppers to continue purchasing long after the December beauty budget has been spent. Luckily for us, these makeup coupon codes will actually save you big time if you still need to snag some cosmetic goodies. If you're going to splurge, you might as well get some freebies while your at it.
RetailMeNot, and other similar cosmetic coupon sites, basically compile all the beauty deals that are floating around the internet into one easy-peasy site full of various savings. That way, you won't miss out on all the extra swag available to you.
First time Too Faced buyers can score 20 percent off their first purchase if they sign up for emails, while seasoned Too Faced lovers will receive 30 percent off Red Hot Sale items. If you're a Tarte cosmetics fan, you can nab 20 percent off your entire purchase with this Tarte coupon code.
Perhaps you're in need of some skincare to help combat this dry and insanely cold winter weather. You can use the 15 percent off and free shipping code on Paula's Choice products to save some dollars on a new moisturizer. Codes that are active often say verified underneath and have comments confirming that the code does indeed work. Some codes are expired, but they're easy to spot. They won't be verified and often there will be a slew of begrudging comments about how the code didn't work IRL.
Right now, many of your favorite brands are offering discounts and freebies attached to your favorite products. I highly recommend the Resist Moisture Renewal Oil Booster ($36; paulaschoice.com) and the Resist Intensive Repair Cream ($33; paulaschoice.com) to combat the super dehydrating winter air.
According to RetailMeNot, Perfumania is offering up to 40 percent off select designer fragrances, so if you're a Lancôme La Vie Est Belle ($105, Perfumania) or Prada Candy ($104, Perfumania) stan, you can save some dollars there.
If you're in need of some goodies from Ulta, there's a code for $3.50 off a purchase of $15 or more, plus free shipping on any order over $50 and samples! This code has been verified and one RetailMeNot user bragged in the comments about her shampoo savings that combined a store sale and the coupon code. TBH this would be a very opportune time to pick up the Kandee Johnson x OGX collaboration if you haven't already.
There is also a code for up to 20 percent off Bath and Body Works on its website, and more than 100 RetailMeNot users have left comments detailing their savings. I personally will be taking this opportunity to stock up on some Fresh Balsam Candles ($12, bathandbodyworks) and multiple five-packs of French Lavender PocketBac Sanitizers ($6, bathandbodyworks). Ya know, just enough to last me through all of 2018.
RetailMeNot also has numerous cash back offers for popular retailers and brands like Macy's, JCPenney, Ulta, Elf, Clinique, Sally Beauty, Neiman Marcus, Origins, MAC, Jo Malone, Smashbox, and Estée Lauder just to name a few.
So if your nearly maxed out credit card is still burning a lipstick-shaped hole in your pocket, make sure to check out RetailMeNot's makeup coupon codes. If you're going to splurge, you might as well get as many freebies as you can.