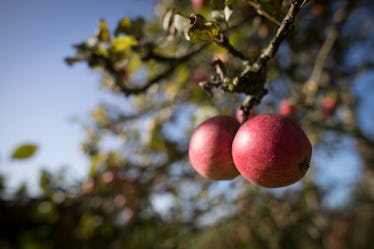 This New Sparkling Cider Shampoo Is So Delicious, You'll Want To Drink It (But Don't OK?)
Matt Cardy/Getty Images News/Getty Images
We all know, love, and obsess over pumpkin spice in all of its warm and familiar glory. But there's a new scent sweeping the scene this autumn, and it straight up smells like fall in a bottle. If you love your PSL, but you're worried about being too basic, then you're probably wondering where to buy OGX Sparkling Cider Shampoo. Well, I've got the scoop on fall's other blockbuster beverage in shampoo form, and trust me, your hair and nose will thank you.
Straight off of her successful confectionary collaboration with Too Faced Cosmetics, the aptly-named beauty guru Kandee Johnson has worked with haircare brand OGX to create a holiday collection that will satisfy even the most insatiable sweet tooth. The line includes both shampoo and conditioner in three limited-edition scents: Candy Gumdrop, Frosted Sugar Cookie, and, most importantly, Sparkling Cider.
According to the iridescent, pastel packaging, Candy Gumdrop contains notes of fruity gumdrops and vanilla sugar sprinkles while the Frosted Sugar Cookie smells like just-baked cookies with vanilla frosting. Is your mouth watering yet? Just try not to drool in hungry anticipation. And we haven't even begun to discuss the pièce de résistance in the collection: Sparkling Cider.
If you love the warm sweetness of the rightfully idolized Pumpkin Spice Latte, then the scent of Sparkling Cider with just a hint of cinnamon is sure to lead to love at first sniff. Prepare for the scent to envelop you like your favorite fuzzy, oversized sweater on a blustery, brisk fall afternoon.
As if the comforting seasonal scent wasn't enough, the bubbly shampoo will also clean and quench your tresses, leaving them perfectly bouncy for fall. We've all heard that apple cider vinegar is good for our hair. Here's hoping that Sparkling Cider has the same clarifying and glossing effects.
OGX x Kandee Johnson Sparkling Cider Shampoo, $8, Ulta
OGX x Kandee Johnson Frosted Sugar Cookie Shampoo, $8, Ulta
OGX x Kandee Johnson Candy Gumdrop Shampoo, $8, Ulta
If pumpkin spice is your usual vice, then you're sure to be intoxicated immediately as soon as you flip open the cap. It smells so delicious that you'll want to drink it all (but don't, OK?). Though OGX does pride itself on clean and simple ingredients, it's still just shampoo, after all!
Even though the shampoos and conditioners aren't released until Nov. 1, the beauty lovers of the Twitterverse have begun to sing the line's praises.
This queen is ready for her hair to reach Willy Wonka potential.
This shampoo guru swears by OGX and just knows the collection will slay us all.
So many beauty and haircare lovers alike are here for this unexpected, but surprisingly perfect collab.
If you haven't tried OGX in the past, then consider this the perfection introduction. According to its website, OGX is "beauty, pure and simple." It loves to incorporate exotic ingredients such as Argan Oil and Tsubaki blossoms, all while keeping the price per bottle below $10. These hair products are indulgent, but affordable. And they really, really work. Just look at these reviews.
OGX's formulas really do what they say.
And they leave your hair looking better than ever.
If a hair product merits a Tina gif, then you know it's gotta be good.
Whether you subscribe to Kandee Johnson or not, you can feel confident in supporting this YouTubers most recent collab. Judging by the generous outpouring of supportive tweets from her fans, she truly deserves all the good that's coming to her.
If you love a festive autumnal scent, then be sure to stock up on these shampoos when they're released on Nov. 1 at Ulta, Walgreens, and Walmart stores. Remember, they are limited edition. Or, simply ask Santa (wink, wink) for some in your stocking. Parents love to give utilitarian gifts like toiletries during the holiday season. But, with the OGX x Kandee Johnson collection, you can be practical and  irresistible at the same time.