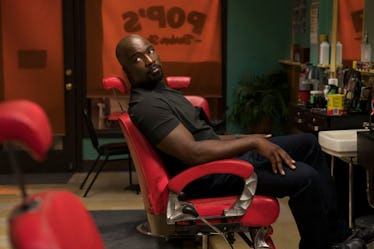 These 'Luke Cage' Season 2 Easter Eggs Will Completely Blow Your Mind
Netflix
One of the joys of "shared franchise universes" like the Marvel Cinematic Universe is all of the in-house references and Easter eggs dotted throughout the plot for the hardcore fans to find. Between the comics, the movies, and the TV shows, Marvel's Luke Cage is no exception. Being based in the world of comics means viewers get references from two directions, both from the already established MCU and from the source material. There is at least one major Luke Cage Season 2 Easter egg per episode in this new season. Warning: Spoilers for Luke Cage Season 2 follow.
Before we dive into this list, I want to shout out to the costume designer, Stephanie Maslansky, and her brilliant notion to have DW wear a different Luke Cage/Power Man branded T-shirt in every episode. Those shirts and hoodies were Easter eggs unto themselves every time someone walked into the barbershop and saw them hanging on the wall. I looked forward to every time DW would show up on-screen to see which shirt he had on this time.
So, where have you seen that image before? Or why *does* that line seem so familiar? Let's run down all the best callbacks and Easter eggs tucked away in Luke Cage's second season.