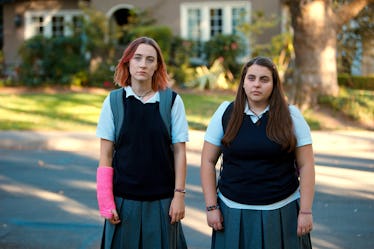 10 Things You Didn't Know About 'Lady Bird,' According To Beanie Feldstein – EXCLUSIVE
A24
If you were seriously impressed by Greta Gerwig's Lady Bird, you're not alone. "Greta Gerwig is magic," Beanie Feldstein, the actress who plays Julie, Lady Bird's best friend tells Elite Daily. "The rest of us are muggles, and Greta is magic." Feldstein insists that Lady Bird's success falls to the strength of its writer-director, and she praises Gerwig for creating an environment where she and co-star Saoirse Ronan felt comfortable giving vulnerable performances. "She's a remarkable human and a remarkable director," the actress reveals.
When Feldstein first read Gerwig's semi-autobiographical script, she was immediately impressed. "I was so captivated by that opening scene between Lady Bird and her mom in the car," she says. "Within those five pages, I was hooked." Of course, having an opportunity to work with major stars like Gerwig and Ronan didn't hurt either. "I was already such a fan of Greta's work ... And then the idea of Saoirse playing Lady Bird, I was just so enamored," she says. Can you blame her?
Feldstein explains that even though she's nothing like her character Julie — "she's such an observer, and I'm not much of an observer. I'm much more of a chatterer" — she felt an instant connection to her. "I got to Julie, and I just instantly knew her. I'm not her, but I knew her," she says.
"She was somewhere inside of me, like a sliver of my personality that the second I read it I was like, 'Oh, I know this girl.'" Feldstein enjoyed getting to play a character so different from herself, especially someone like Julie, the quiet, ride-or-die friend who's so much more than your average sidekick.
Before her breakout performance in Lady Bird, Feldstein had small roles in projects like Neighbors 2: Sorority Rising and Will & Grace, and she's currently performing in the Broadway musical Hello, Dolly! Feldstein loves these roles, but Lady Bird required something more than a strictly comedic performance. "A lot of what was asked of me in that film was to be much more emotionally vulnerable than I've ever been," she told Elite Daily.
While Ronan is used to laying out her soul in dramas like Brooklyn and The Lovely Bones, Feldstein was "nervous" about being vulnerable on-screen, especially because she came up in the world of big-budget comedy. "The biggest difference for me was to play these quietly human moments," she says. Despite those initial nerves, the actress is happy with her performance: "I think it all worked out," she says. Five Oscar nominations later, it seems like both fans and critics agree.
"There was something special about every single day that I was on set," says Feldstein, but she holds a special place in her heart for that amazingly over the top "Crash Into Me" scene.
Saoirse and I singing 'Crash Into Me' in the car was the most fun scene I've ever filmed. Like, we were laughing so hard that we were like choking. It was in the middle of the night, and it was after we had filmed the scene of her coming to get me on the couch for prom. So we'd just had this emotional moment, and then we were having a different emotional moment, and we just thought it was so funny. That was one of my most favorite scenes I've ever filmed in my life.
In the movie, Lady Bird walks in on her boyfriend (Lucas Hedges) kissing a boy in a restaurant bathroom. Upset, she storms out, and the camera cuts to her and Julie in the car, part crying, part singing Dave Matthews Band's "Crash Into Me." It's a super emotional moment, but it's also a perfect representation of "everything is the biggest deal ever in high school," so it's not surprising that Ronan and Feldstein laughed their way through the scene.
Feldstein explains that she and Ronan had a special relationship on set: she would teach Ronan about being an American high schooler and Ronan would teach Feldstein about growing up Catholic. Feldstein was raised Jewish, so many of the religious moments in Lady Bird were unfamiliar to her, including the morning mass scenes and the Hail Mary prayer. While Feldstein spent time learning these prayers before production began (she focused heavily on learning "Make Me A Channel Of Your Peace," the prayer Julie sings in her audition for the musical) Ronan ended up stepping in to help. "Saoirse grew up Catholic, but she didn't grow up in the States, and I obviously grew up Jewish but I grew up in the States, so she taught me the Hail Mary and I taught her the Pledge of Allegiance," she says with a laugh. And if Ronan forgot a line of the Pledge? Feldstein had her covered. "We would sort of whisper the next lines to each other or look at each other and mouth the words," she explains about their on-set shenanigans.
When they weren't teaching each other how to be Catholic high school girls, Feldstein and Ronan (who are less than a year apart in age) were joking about their insatiable characters.
We ate so much in the movie... Saoirse and I always joked, like, they're always eating. There were scenes of the cheese and the communion wafers, and there was a scene where we're finishing cupcakes. Like there's so many scenes where we're eating.
You may have missed it in the movie, but Feldstein explains that she and Ronan do "a full Brad Pitt" in Lady Bird (Pitt ate his way through practically every scene in Ocean's Eleven). It's a funny anecdote, but Gerwig may have stumbled upon the most accurate way to represent high school girls. When I think back on high school, I was constantly eating with my friends — there was always a birthday to celebrate or snacks to steal from the teachers' lounge or a fridge to raid after practice. "Those girls, they love to snack," says Feldstein, summing up pretty much every high school experience ever.
For Julie and Lady Bird, any food is fair game, even communion wafers. While Feldstein doesn't know how many wafers they ended up eating while filming the scene, she does say that they had permission to eat them. "They are not consecrated, we had total permission from — I want to say it's the Deacon? I don't know, I still don't know the right name. The Deacon, the Priest, I don't know. But we did have permission," says the actress. I'm sure Darlene will be happy to hear that.
Since the film's release, tons of women have come up to Feldstein to tell her that they identify with Julie, and she's incredibly touched by the sentiment.
People come up to me and they're like, "I feel like you're my friend!" And I'm like, "I am your friend!" I'm the right person for the job, in that way, because I love chatting with people and I love getting to know people. So it means so, so much to me when people come up to me and say that.
It's not surprising that women everywhere feel like they can identify with Julie (Who hasn't felt like their friend is ditching them for someone cooler?), but the star insists that she gets plenty of compliments from men who've seen Lady Bird, as well. "I've had a lot of men come up to me too just to say, 'This movie really resonated with me' or 'I feel like I understand my mom or my sister differently.' It's incredibly special. It doesn't feel real," says Feldstein. Especially in the age of #MeToo, it's encouraging to hear that men identify with a female-driven, coming of age indie film just as much as women.
Feldstein explains that no one could have prepared her for the success of Lady Bird, not even her famous brother, Jonah Hill. The two are incredibly close — "We're best friends," she says, — but never in a million years did either of them believe they would one day be in Oscar-nominated films. "It's still very crazy. But it's so special," she says. This awards season has been crazy for Feldstein, but she insists that having her brother along for the ride has been nothing short of amazing. "It's just fun to get to share the experience with him," she says.
As of now, Feldstein doesn't have any projects lined up with the Lady Bird crew, people she considers "family." But she does hope to collaborate again with Gerwig one day, this time on a totally different project. "I've been really hoping for Greta to direct a musical ... There are no plans for that to happen that I know of, but that is my dream for her. And for myself," she says. Feldstein is a major Stephen Sondheim fan, so she loved that Gerwig wrote "Merrily We Roll Along" into the script, but she says that her dream musical would be much longer. "My dream would be a Greta Gerwig-directed Sondheim musical ... So basically the movie but the whole thing. And maybe not the high school costumes and stuff."
Greta, you're not busy or anything, right? You can get on this ASAP?
Lady Bird is now available on Blu-ray™ Combo Pack (plus DVD and Digital) and DVD.