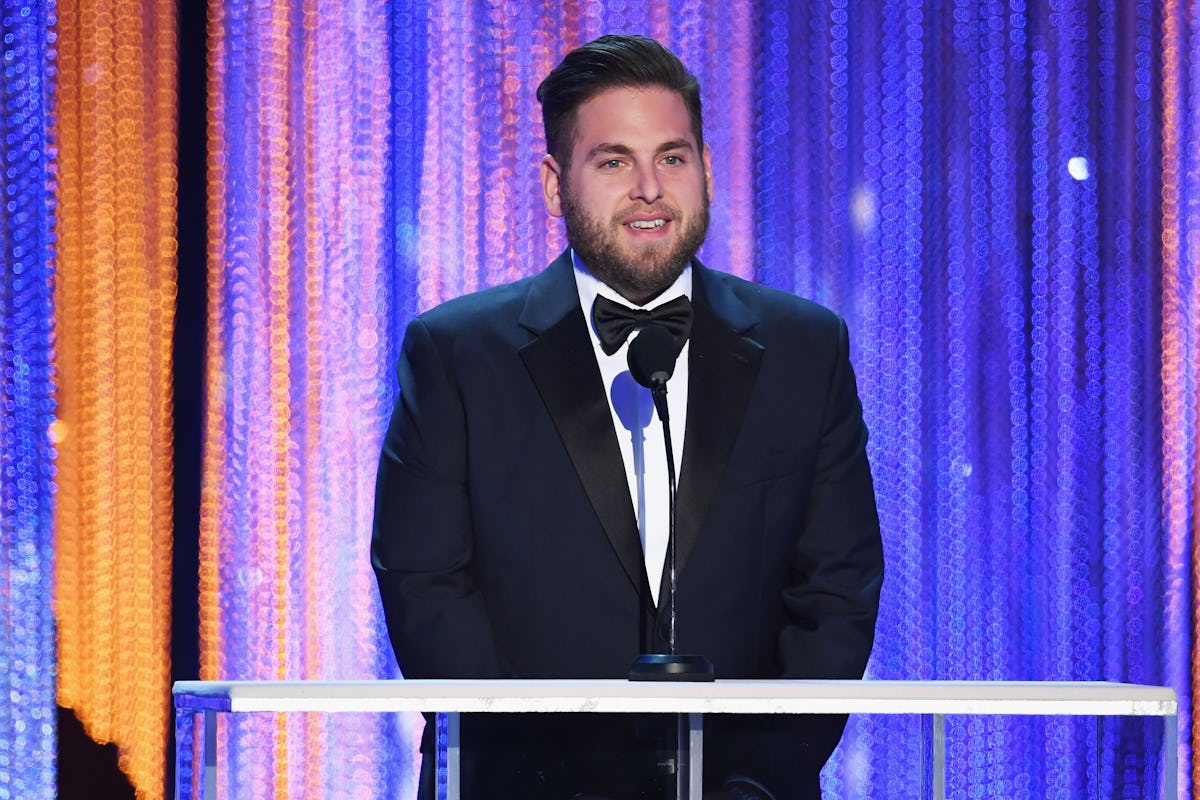 People Are Finally Realizing Who Jonah Hill's Sister Is & It's Blowing Their Minds
Kevin Winter/Getty Images Entertainment/Getty Images
I just love when a couple of celebrities I didn't know were related are suddenly revealed to be related, don't you? First there was Hallie and Jesse Eisenberg. Then Blake and Robyn Lively. Then Kate and Rooney Mara. Now there's one more set of famous siblings to add to that list. Because it turns out Lady Bird star Beanie Feldstein is Jonah Hill's sister!
Though the pair have kept their brother-sister status on the DL, the cat was let out of the bag when the 24-year-old actress brought her mom, Shay, as her date to the SAG Awards on Jan. 21, one month after the tragic passing of her 40-year-old brother Jordan Feldstein from a heart attack just before Christmas.
See, Beanie was nominated along with the rest of the Lady Bird ensemble for Best Cast in a Motion Picture, and when she was stopped on the red carpet by Nina Parker with E! News, the reporter busted out with a simple: "A lot of people may not know this, but your brother is Jonah Hill."
Wait, what? Sure, in hindsight, it actually kind of seems obvious. But I seriously had no clue about this relationship — and now that I do, I actually love it! Although, I can't help but wonder why Jonah went and changed his last name and his little sister didn't. Because while I have no problem at all with the name Beanie Feldstein, "Beanie Hill" has a special little ring to it.
On second thought, it does kind of sound like a swanky, gated community somewhere outside of Boston, so nevermind.
In addition to filming Lady Bird, Beanie has spent the past 10 months on Broadway in Hello, Dolly. "I worked the hardest I've ever worked in my life to do a musical like that eight times a week," she explained to The Cut.
She also opened up about her relationship with Jonah. "We're very, very close," she said. "We're best friends."
Aww. That's just super cute! And of course, once fans picked up on the Jonah-Beanie connection, they started freaking out about the news over on Twitter.
She really does! Meanwhile, here's something else that was blowing people's minds. Instead of calling upon a stylist to pull her the latest and greatest runway looks for her red carpet appearance, Beanie decided to go back into the archives and just rock her Kay Unger prom dress instead.
"I put it on and it fit, surprisingly maybe better than it did in high school!" she told The Cut. "I looked at myself and I was like, WHAT!? and my mom and her best friend were just laughing so hard, like, 'You have to wear it! There's just no other dress that would be better.'"
Can't say I disagree — she looks fabulous! And who among us hasn't had that moment when you pull something out of your closet that you haven't worn in a while, and then put it on and it just somehow... works? And now you're suddenly all happy and confident... I mean, there's no better feeling. Of course, Beanie also revealed another, albeit deeper, reason for wearing her prom dress — she felt like it would be the perfect tribute to her character in Lady Bird.
"It's just a gorgeous dress," she explained. "And I love how my character's story ends at the prom, so, like, for the first time I'm going to an awards show as a nominee with the cast, it's like, 'You gotta wear your prom dress, girl, and honor Julie.'"
Bravo, Beanie! I'm gonna need to see those prom pics, though!