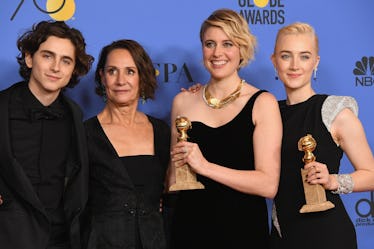 There Won't Be A 'Lady Bird 2,' But Greta Gerwig Is Giving Us The Next Best Thing
Kevin Winter/Getty Images Entertainment/Getty Images
Lady Bird's nostalgic, heartfelt insight into a mother-daughter relationship in 2002 Sacramento won me over only a few minutes in when Saoirse Ronan and Laurie Metcalf cried over a Grapes of Wrath audiobook together. I wasn't the only one who quickly fell in love with the movie. Given audiences' gushing reactions to the film and its very open-ended conclusion, will there be a Lady Bird sequel? Writer and director Greta Gerwig has been vocal about how Lady Bird was her own ode to growing up in Sacramento, and while she isn't committed to giving it a sequel, she does want to delve more into stories set in California's capital city.
In the first episode of Lady Bird production company A24's podcast, Gerwig joined Moonlight director Barry Jenkins in a discussion about their hometowns' roles in their films. While Jenkins talked about Moonlight taking place in his home of Miami, Gerwig revealed her wish to make three more films set in Sacramento.
I'd like to make a total of four films that take place there. I would like to do a quartet of Sacramento films. It's inspired by the Elena Ferrante Neapolitan quartet — she wrote these four books that took place mainly in Naples. They're so great. I thought, 'Oh, I'd like to do that.' [Lady Bird] was one part of Sacramento. There's a lot of different parts of Sacramento that I'd like to explore, too. I feel like I have the privilege of being from a place. I'm really from that place — my family didn't move, my family's still there, my friends are still there — I feel like I can actually speak to it with some feeling.
The decision to pursue the making of a quartet comes from Gerwig reading Elena Ferrante's Neapolitan series, which followed two longtime friends growing up in a poor neighborhood in Naples. While she hasn't specified if her quartet would feature Lady Bird characters, Gerwig sharing this idea will definitely get fans interested in potential character crossovers. I'm already prepared for the day a DVD box set of these four films is released, so get on these plans, girl!
Lady Bird's Sacramento setting has already inspired viewers to visit the actual locations seen in the film. While appearing on The Late Late Show with James Corden, Gerwig revealed that Sacramento locals are now running a "Lady Bird walking tour" that includes the beautiful mansion Ronan's titular character wished to live in someday. Imagine how this tour could grow if even more landmarks are included in Gerwig's future films.
Gerwig's all-girls Catholic high school is even participating in the widespread love for the film. Sacramento's St. Francis Catholic High School plans to host an Oscar party in honor of Gerwig's work. Nominated for Best Picture and two acting awards, Lady Bird also scored Gerwig individual Best Director and Best Original Screenplay nominations.
MaryAnne Kelly, the school's director of advancement, told PEOPLE that the faculty has Gerwig's blessing for the event:
She does know about it. Her parents still live in the area, and they've regularly stopped by the school. Her mom and dad stopped by to give out 'I Love Lady Bird' buttons from A24... The thing you'll hear from [people on campus] is she's the person today that she was back then. She's as gracious today as she was back then.
How cute is that?
Speaking to Vanity Fair, other staff members at the school also feel that Lady Bird's success has allowed people to feel proud of being from Sacramento. At the Oscars party on March 4, the Academy Awards will stream live at the school, while Kelly is working with a team to create a video montage of Gerwig's roles in high school theater productions. In response to the adoration from her alma mater, Gerwig wrote to the magazine:
I adore Sacramento, and I couldn't be more thrilled that I was able to photograph my beautiful city in Lady Bird. It was a dream come true, and I am just so happy that people all over the world are identifying with it, even if they have never been there. It really drives home the idea that the more specific you make something, the more universal it becomes.
After hearing about such fierce hometown love to emerge from Lady Bird, I'm even more excited for the possibility of Gerwig's further focus on Sacramento. Until then, I have my fingers crossed for Gerwig to snag a trophy on Oscars night!