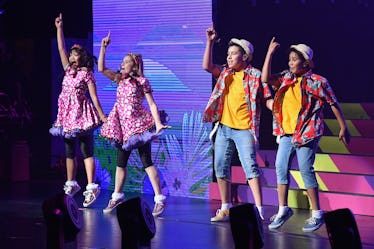 20 'Kidz Bop' Remixes Of Explicit Songs So Hilarious, You May End Up Liking Them
Dia Dipasupil/Getty Images Entertainment/Getty Images
Kidz Bop has been around for what feels like forever, and that's probably because they've recorded over 30 albums since 2001, meaning their music has been part of so many people's childhoods. They've covered everyone from 2000's icons like Britney Spears and Avril Lavigne, to more recent favorites like Lizzo and Ariana Grande. These Kidz Bop remixes of explicit songs include some of the most hilarious lyric changes, so be prepared, because there are a lot.
You would think that Kidz Bop would simply steer clear of hit songs that veer into rated-R territory (y'know, sex, drugs, or rock 'n' roll). But they don't let any of that stop them. When a song isn't exactly family-friendly, Kidz Bop works around it in order to fulfill their promise of delivering the "biggest pop hits sung by kids for kids." Through the years, their team has come up with some pretty creative alternatives to replace inappropriate lyrics. However, some of them ended up being so watered down, they're pretty laughable for adults.
I guarantee you'll face palm while listening to some of these because, often times, the lyric changes don't make much sense to a more mature ear. They've reinvented a lot of the love songs to be about hanging out with friends or going to school, so you can imagine the saccharine lyrics that have resulted from following these super G-rated themes. Kidz Bop has two decades' worth of cover songs, so it was hard to choose just a few, but no list would be complete without these 20 Kidz Bop remixes.