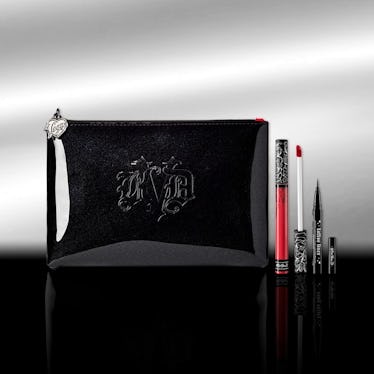 These Kat Von D Cyber Week Sales Will Score You Some Free Swag
Courtesy of Kat Von D Beauty
If I'm being totally honest, I'm not exactly happy that the holidays are upon us. Don't get me wrong, I love spending time with my family, baking pies, burning fall-scented candles, and hosting dinners, but it just reminds me that the year is nearly over. I'm not even ready for Thanksgiving, let alone 2019. However, there's one thing that makes me feel better about it all: The Kat Von D Cyber Week 2018 sales. This is the best time of the year to score some major deals and even get some of your items completely free (yup, you read that right!). Here's everything you can expect when you shop for your favorite Kat Von D Beauty staples beginning on Thanksgiving day.
Black Friday Deals
If you're shopping on KatVonDBeauty.com, you don't even need to wait until Black Friday for the deals. The savings start on Thursday, November 22 and go on until Saturday, November 24. During these days, for every $75 you spend, you get a free large makeup bag (a shimmery black pouch with the Kat Von D Beauty logo embossed on the front) with a mini Tattoo Liner in Trooper Black and your choice of a full-size Everlasting Liquid Lipstick in one of the following shades: Damned, Miss Argentina, Bachelorette, Melancholia, Beloved, Woolf, Noble, L.U.V., Dreamer, or Malice.
Cyber Monday Deals
In case you loaded up on the turkey and slept through the Black Friday sales, don't worry, you still have plenty of opportunities to save some major cash. When you shop on KatVonDBeauty.com from Saturday, November 24 to Monday, November 26, you get 20 percent off of everything on the entire website (here's where you stock for all your faves like the Lock It Concealer, Lock It Foundation, and the Shade + Light Contour Palettes). Additionally from Sunday, November 25 to Monday, November 26, you'll get a free gift with every $50 purchase. In your small patent black Kat-Von-D-Beauty branded makeup bag, you'll get a free compact mirror, Tattoo Liner in Trooper Black, mini Ink Liner in Trooper Black, and a mini Everlasting Liquid Lipstick in Lolita (which is my all-time favorite shade).
Giving Tuesday Deals
In case you're not familiar with Giving Tuesday, it's the first Tuesday after Thanksgiving that is meant to kick off the holiday season. On this day, you're encouraged to do something for someone else, including buying some makeup for a friend or family member (*wink, wink*).
On Tuesday, November 27 only, if you treat a friend to a Farm Sanctuary Everlasting Liquid Lipstick (which always donates 5 percent of the retail price to the Farm Sanctuary to help end animal suffering) or Project Chimps Everlasting Liquid Lipstick (5 percent of the retail price always goes directly to Project Chimps, a nonprofit organization that works to stop the use of chimps in biomedical research, and retire them to a life of sanctuary), you'll get a free full-size Everlasting Lip Liner in one of the following shades: Misfit, X, D Minor, Por Vida, L.U.V., Sexer, Swoon, Satellite, Kevyn, Smiths, Swanly.
Go on and get an early start on your holiday shopping or treat yourself to some Kat Von D Beauty essentials — no promo codes needed.