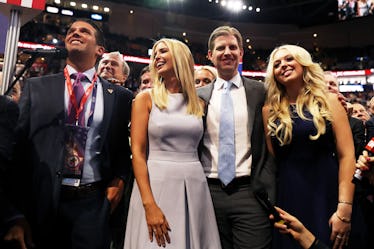 These Ivanka Trump Quotes About Eric Prove They Have Each Other's Backs
Joe Raedle/Getty Images News/Getty Images
As the first daughter of the Trump family, Ivanka Trump surely lends some helpful advice to her younger siblings from time to time. And since her younger brother Eric Trump is helping spearhead the Trump Organization since his father took office as president, he probably appreciates it all the more. These Ivanka Trump quotes about Eric Trump prove that they're pretty tight-knit.
At age 36, Trump is only two years older than 34-year old Eric. Being so close in age, the two surely grew up close with one another, despite Eric being a little less in the spotlight than his older sister Trump.
During a 2004 interview with New York Magazine, Trump said that she, Eric, and their older brother Donald Trump Jr. were raised with strict discipline. This isn't that much of a surprise, since all the children undoubtedly have a strong work ethic.
She said,
Look, none of us are saints. We all like to have fun. But I think our parents have just been pretty tough with us. They've always made sure that we lived within some realm of reality. I don't know how they figured it out, but they knew the perfect way to give us what we needed without it being gratuitous.
Even though the Trump kids might not proclaim their love for each other via social media every other minute, they prove they're a close-knit bunch through sentimental shout outs on birthdays and other special occasions. On Jan 6, Trump posted a picture of her and Eric in honor of Eric's birthday.
She wrote,
Happy birthday to my amazing brother Eric! I love you very much and hope that this year will be your best turn around the sun yet!
Since Trump started keeping herself busy helping Donald Trump Sr. in the White House, Eric has been leading the Trump Organization alongside his older brother Donald Trump Jr. Clearly these siblings have quite busy schedules, but that doesn't stop them from sitting down together for family dinners from time to time.
Plus, Trump is clearly a huge part of Eric's family. On Sep. 12, 2017 Eric and his wife Lara welcomed their baby boy Luke to the world. To celebrate the birth of her nephew, Trump took to Twitter on Sep. 19, 2017 to share a photo of her holding Luke.
The Trump kids are clearly a close bunch in work as well as in their personal lives. In her 2009 book The Trump Card: Playing to Win in Work and Life, Trump discussed her and her siblings' business styles, describing how they work as a team in business negotiations.
She wrote,
Don, Eric and I are always sizing up our 'competition' on the other side of the table to determine which one of us might be best suited to a particular negotiation.
...That's sweet, I guess.
Overall, it's obvious that Trump has a lot of love for her younger brother and his family, and Eric definitely returns the feelings. In April 2017, Eric sat down with CBS' This Morning show to talk about Trump's role in the White House, and her popularity among the public.
"Well she's beautiful," Eric told CBS. "She's beautiful in so many ways. She's smart, she's intelligent and she's full of class. You know I think that's why people love Ivanka."
Talk about a rave review. Interviews aren't the only ways Eric praises Trump. He also regularly takes to Twitter to post about his older sister, whether it's posing for pictures together or supporting her thoughts and opinions.
As members of one of America's most controversial families, it must be nice that the Trump kids can rely on each other for support. Trump and Eric's father, Donald Trump Sr., is regularly under fire from public criticism, and oftentimes the Trump children fall victim to the same criticisms. Good thing Eric and Trump have each other's backs.
Well, criticism or not, the first family can always relax with a presidential dinner from time to time.