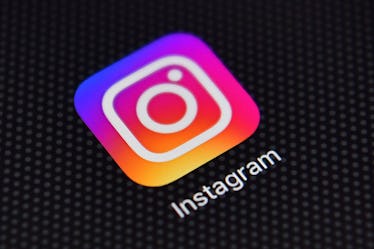 These Ideas For Instagram's Questions Sticker Can Help Your Convo Get Flirty AF
Carl Court/Getty Images News/Getty Images
It's tough out there in the world of modern dating. Luckily, I have some good news if you're tired of swiping right with disappointing results. Instagram's newest feature makes it so easy to get to know that hottie you've been eyeing, and these ideas for Instagram's Questions Sticker can help your convo get flirty AF so quickly. Let's be real, whoever said romance is dead clearly just didn't know about the Questions Sticker.
Instagram might have made a name for itself as an image-sharing app, but thanks to its newest feature, it's now a low-key great way for people to forge potentially meaningful connections without the stress of a dating platform. When the social media giant rolled out its new Questions Sticker on July 10, it touted the update as a way to connect with your followers. Unsurprisingly, users quickly jumped on the feature, and it's pretty much the least awkward way to start a conversation with the person you've been lurking on.
Thanks to Instagram Stories' viewers carousel, people can already tell you're stalking their Stories like your life depends on it. Now, instead of sliding into their DMs, starting a fun conversation through the Questions Sticker can help you start getting to know them without things getting weird or creepy. I mean, if someone is prompting their followers to ask them a question, it's basically an invitation to connect and try to blow them away them with how witty and funny you are. Amiright, or amiright? You might as well delete Bumble now, because these ideas for Instagram questions to ask will bring out your inner flirt in the best way possible.
First things first. Before you send a query to that person you've been crushing on, remember that there's no anonymity. Just like with all of Instagram Story's features, you can see who's watched your question and who's responded.
Secondly, they can share your question publicly if they choose to respond to it. While your username won't show up along with your question, you might want to think twice about querying your crush about something too personal unless you're fine with it being public on their Story. Now that that's all cleared up, it's time to start asking away and see if there's a potential for a relationship there.
1. What's That Song On Your Story?
What better way to start up a conversation with someone than by commenting on the details in their Story? This subtle flirt move also establishes that you might have a similar taste in music and is a great jumping off point for deeper conversations about your potentially shared interests.
2. That Spot Looks Amazing. How Is It?
If they're at a cool coffee shop, a fun bar, or at a 'Gram-worthy restaurant, you can easy get into a lengthy conversation while chalking your curiosity up to "research." Because you're in the market for a new coffee shop to work at, duh. Plus, if you learn that it's someone's go-to spot, it's just so easy to "accidentally" bump into them there IRL.
3. ~ Insert Compliment ~
Let's be real, who doesn't appreciate a compliment? Inserting a little note about a new haircut or a shirt you like on their Story helps send the message you're interested without going overboard.
4. What TV Show Would You 100 Percent Recommend?
Nothing hints at Netflix and Chill quite like asking about their favorite series. Kudos if you can reply back with some suggestions of your own.
5. ~ Destination ~ Looks Amazing! How Is It?
Science says that people who talk about travel on a first date are more likely to get a second date, so querying someone about their travel recs is a great way to get your romance started off on the right foot. Plus, it's so natural to transition to a lengthier conversation about your dream getaway or places you both want to travel to. Who knows, maybe you could be taking one of those trips together in a few years.
6. What's Something That A Lot of People Don't Know About You?
If the Instagram cutie you've been eyeing posts a lot of fitness photos and well, nothing else, there's an easy way to find out if there's more to them than meets the eye. Who knows, they could play piano or have a furry best friend at home. You'll never know unless you dig a little deeper and ask them about a hobby or interest that they've kept on the DL.
7. What Did You Want To Be When You Were Growing Up?
OK, so you're definitely going to see a lot of "firefighter" and "veterinarian" answers, but I like using this prompt to open the door to asking about what they like or don't like about their current career path and any future aspirations they might have.
8. Which Character From A TV Show Or Movie Do You Relate To?
This is one of my favorite first date questions to ask, and for good reason. What better way to tap into someone's goofy sense of humor or brooding bad boy vibes than by having them compare themselves to a fictional character? Plus, if they choose your longtime TV crush, it's a sign that you're totally meant to be together.
9. What Is Your Favorite Thing About Yourself?
People are pretty much conditioned not to talk about the things that they like about themselves, so asking them this question forces them to step out of their comfort zone. And hey, if you happen to agree with their assessment, it doesn't hurt to say so. On the other hand, if they can't stop talking about all their amazing qualities, it's better to know sooner rather than later.
10. If You Could Have Any Superhero Power, What Would It Be?
In a fantasy world, would this person choose the power of invisibility? Flight? Spiderman abilities? Time travel? While it's a playful question, their choice and why says so much about them and the things they find important. Plus, bonding over a shared fandom is just an added bonus.
Obviously these ideas for Instagram's Questions sticker are just the tip of the ice burg, but they can help turn a little fun Instagram flirting into something more serious. The point is, if you've been wondering if you and your 'Gram crush would connect IRL, there's no better time than now to head over to their Story and start asking away.